Real Estate News, Tennessee
Tellico Village - Sunsets and Happiness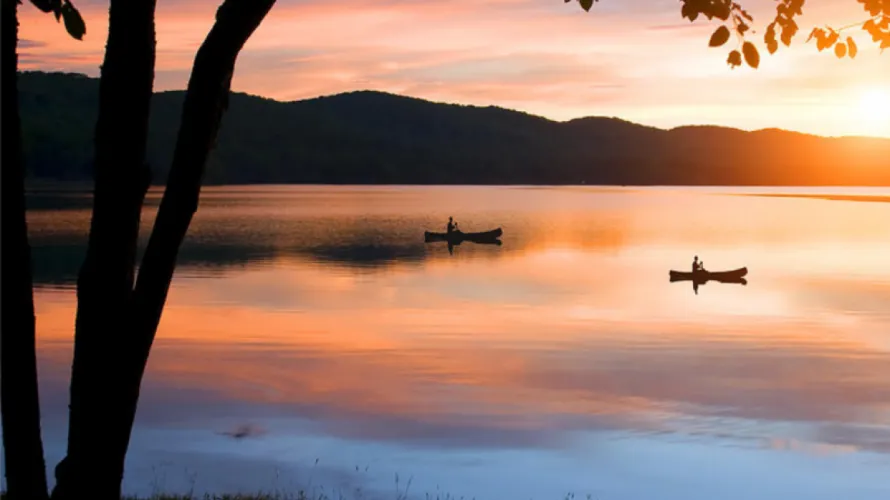 Published on November 21, 2018
Are you still looking for that perfect place to call home? Why not venture to one of the happiest places to live in Tennessee, the award winning community of Tellico Village. Their happiness is not by happenstance. This thoughtfully designed active adult community is built on over 5,000 acres along the shoreline of sparkling 16,000 acre Tellico Lake in the foothills of the Great Smoky Mountains. Locals call it a 'college campus for adults'. A place where many are enjoying endless sunsets and the happiest times of their lives.
GOLF CHATTER
This holiday season, Tellico Village once again comes together to support important worthwhile causes.  On Saturday, December 1st, the much-anticipated Santa Claus Open will be held at Tanasi Golf Club. This annual event is a great way residents bond on the greenway to raise money and collect toys for the Loudon County Toys for Tots.  The golf fundraiser kicks off at 10:00 am with a shotgun start.  There will be a 4-person team using the 2 best NET scores on each hole.  Individuals can sign up or create a team to participate.  There is a $5 entry fee per player and attendees bring new unwrapped toys for the kids.  To play, golfers must have an activated GHIN handicap.  Santa will provide pitchers of beer after the event to thank those who get involved bringing holiday cheer to those in need.  Those who can't attend the event but would like to donate a toy can do so at the Tanasi Golf Shop by December 1st.
Golf is an excellent way to stay active and is highly popular at the village.  There are 3 championship unique golf courses to enjoy. The Links at Kahite Golf Course, The Tanasi Golf Course and The Toqua Championship Golf Course with clubhouses at each location.
THE NOVEMBER FOODIE SCENE
The 20,400 square-foot Tellico Village Yacht Club located in the center of the community is where you'll find exquisite waterfront dining and marina services.  What a great way to relax after a sunset cruise on the lake or round of golf!
There is plenty of reason to give thanks at Tellico Village.  The lifestyle created at this waterfront retirement community is over the top. It feels like an all-inclusive resort community with impressive amenities, amazing architecture and activities that keep active Boomers satisfied throughout the seasons. However, amenities are optional and paid for a la carte. Monthly POA fees are the only thing that is compulsory at around $110 a month.
Thanksgiving is a meaningful time count for villagers to count their blessings and what better way than dining at the mouthwatering Blue Heron Restaurant at the Tellico Village Yacht Club. Tomorrow they will be offering a spectacular Thanksgiving Buffet for families to get together and enjoy some amazing traditional favorites.  For only $24.99 for adults, $12.50 for kids (children under 5 eat free!) there is an incredible menu prepared for those who don't want to cook for themselves.  Here is what is being offered at this fun-filled celebration:  House salad, honey buttermilk biscuits, cranberry chutney, carved turkey and ham, sweet potato casserole, green bean casserole, cornbread stuffing, four cheese mac and cheese, garlic and herb whipped potatoes followed by home made desserts featuring pecan pie, pumpkin pie and gluten free chocolate cake.  The dinner is being offered from 12 to 4 and reservations are recommended.
Situated on a beautiful peninsula overlooking Tellico Lake, the Yacht Club includes a lounge, dining areas, loft and gallery levels and incorporates large expanses of glass facing the lake on all three levels of the building.  It is located adjacent to the largest marina in Tellico Village and provides guest docks for boaters who wish to visit the Yacht Club by water.  This is the hub of the lake community and provides the perfect resource for bonding with neighbors. The Yacht Club's Blue Heron Restaurant offers exceptional lakeside dining in one of the most spectacular lakefront settings in East Tennessee. Brunches, lunches and dinners are prepared by a noted chef with international experience.The November Tiki Friday will be held at "the Club" on November 23rd featuring "Rock n Feller" and is a great way to burn calories dancing the night away at this weekly get together.  Folks who can carry a tune can enjoy "Karaoke Live" on Thursday, November 28th from 6 to 9pm featuring Party Boys DJ.
FITNESS IS ALWAYS FUN AT THE VILLAGE
Staying fit is a priority for the villagers.  In addition to boating, golfing, tennis and hiking on one of many hiking trails that meander throughout the property, villagers have access to a modern 26,000 square foot Tellico Village Wellness Center which offers an indoor lap pool facing the mountains, an indoor and outdoor walking track, saunas, locker rooms, wellness classes, indoor tennis courts and outdoor pickleball courts.
The Kahite Activity Center also has a swimming pool with 2 Har-Tru tennis courts and fitness classes with a wide variety of choices. The Chota Recreation Center is a third fitness center with 17,460 square feet offering a heated outdoor pool, pickleball courts, a full gym and a playground for kids. Here's a few of the wellness classes offered to residents:  Fit & Tone, Pilates, Water Boot Camp, Tennis, Wallyball, Aqua Action, Zumba, Arthritis Water Class, Hatha Yoga, Tai Chi, Racquetball and Basketball are just a few of the many options available at Tellico Village.
NEIGHBORHOOD PLAY TIME
Other fun activities in the village include line dancing, badminton, guitar workshops, table tennis, chess, Mah Jongg, and "walk & talk" outings.  The list goes one and is one of the reasons that The Village is the perfect spot to enjoy life after retirement. In fact, there are over 60 social clubs found here keeping this community connected.  Here are just a few of the social clubs that keep residents active:
Art Guild of Tellico Village
Badminton Club
Computer Users Club
Fishing Club
Garden Club
Tellico Village Hikers
Pickleball Club
Motorcycle Club
Woodworkers Club
TAKE THE LONG WAY HOME
The lush landscaping that surrounds this lake community is yet another valuable asset of living at the village.  Getting out and exploring the majestic terrain provides the ideal resource to get fresh mountain air and quality exercise on one of the many hiking trails that are scattered throughout the 5,000-acre property.  Outside the Wellness Center, there is a paved walkway offering 4 exercise stations.  To enjoy the rich forestry that is found surrounding the neighborhoods, the Toqua walking trail runs parallel to Toqua Road and offers incredible scenery and impressive views of the Toqua Golf Course.
For a bit more aggressive hike, the modest elevations of the Coyatee trail weaves through the serene woodlands which pass by a peaceful forest pond and provides hikers an escape from the stresses of everyday living.  There is also a 3-mile trail with superb views of Tellico Lake that wraps through the Kahite neighborhood offering a walkway through nature unmatched by any other community found here.  Aging well is easy at Tellico Village.
In addition to the trails that are found at Tellico Village, there are several other hiking options nearby that can be explored by residents and visitors to this select Tennessee Region.   
• Within a 30-minute drive of Tellico Village, East Lakeshore Hiking Trail can be found on the eastern shoreline of Tellico Lake and offers a 30.3 mile trail that encircles the lake leading through rich forestry while intersecting lake inlets along the way.  Recognized in May of 2012 as part of the US National Trails systems, East Lakeshore Hiking Trail is considered one of the top hiking destinations in the country.
• The "Boy Scout" Trails were originally built by Loudon Country Troop 54 of the Boy Scouts of America, thus the name.  The trails are located off Route 44 on the northern border of Tellico Village and Tellico Dam.  These winding trails offer slight elevations while being able to enjoy shoreline excursions along Tellico Lake providing impressive scenery that includes views of Tellico Lake, the Village and the majestic Smoky Mountains.
For the seasoned hiker, East Tennessee presents some of the best hiking trails in the world found scattered throughout Great Smoky Mountain National Park only 45 minutes from the Tellico Village offering hiking experiences for all levels.  Enjoying the beautiful scenery is yet another reason why this real estate is prime.
SMARTER THAN A 5TH GRADER
Besides staying physically fit, staying mentally fit is a priority for seniors. Many of the residents are former professors, scholars and teachers. One of the most innovative concept for the community is the Tellico Village University.  A place where lifelong learning experiences help preserve mental alertness and keep folks connected by learning new skills together. Courses include lessons in writing poetry, woodworking, painting, computer skills and even college courses can be found at the online university.  The website has a comprehensive listing of the lectures, workshops and events offered by the community's various organizations.
There is never a dull moment living at the village. If you're traveling to Tennessee, stop by and take a look or better yet, book their Discovery Package which gives you a chance to experience the community up close.
Call Tellico Village directly at 888.287.0676 to schedule a tour.
Other Real Estate News