Real Estate News, Tennessee
Tellico Village Kicks Off Summer at the Lake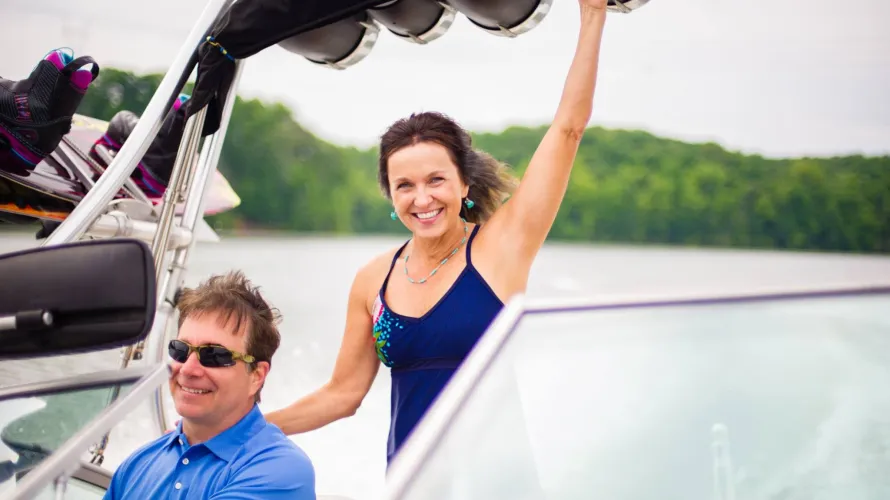 Published on June 5, 2017
Summer is here, and there are lots of activities planned for residents and guests of Tellico Village, one of Tennessee's most popular waterfront retirement communities. Whether you enjoy golf, hiking, singing, or having dinner with family and friends, there will surely be something fun for everyone this summer. 
Located on the shores of Tellico Lake, one of the most beautiful lakes near Knoxville TN, Tellico Village is a top spot in the southeast for lakeside retirement. Living at Tellico Village gives you access to a number of exclusive amenities, so that residents can live a healthy, active lifestyle. Amenities in the community include 3 championship golf courses, a lakefront clubhouse with dining, tennis courts, swimming pools, and a full service marina with boat slips. 
If you enjoy more quiet activities, there is a brand new library for reading, and there are community parks where you can relax, picnic, and enjoy the scenic views.  Some of the activities that the lake community has planned for this summer include:
New Villager's Club Social (June 1) - The New Villagers Club holds a social from 5:00 to 6:30 p.m., on the first Thursday of every month in the Yacht Club. All new residents enjoying lakeside retirement are welcome.
Tellico Village Garden Club Potluck Luncheon (June 1) - Join the Garden Club at noon at Christ Our Savior Lutheran Church on Rt. 72 with speaker Lyn Bales of Ijams Nature Center for a delicious lunch and discussion about gardening. 
Tellico Village Woodworkers Meeting (June 1) - The June TV Woodworkers' meeting will be held at 6:45 p.m. on the top floor of the Yacht Club. This meeting is the Spring Challenge where members are challenged to make something from a rustic piece of wood. All friends and visitors are welcome to attend. 
American Legion Post 256 Meeting (June 1) - American Legion Post 256, extends an invitation to all Veterans to join meetings on the 1st Thursday of each month. The meeting begins at 9 AM and includes a breakfast buffet for $12.00. Breakfast is followed by an informative guest speaker and updates on community and veteran's services projects. Join everyone in the Fellowship Hall at The First Baptist Church of Tellico Village.
Tellico Village Hiking Club Hike (June 2) - The community hiking club will lead a hike to  BOB STRATTON BALD, with an option to continue up to HANGOVER. Hikers will depart at 8:00 a.m. from Chota Center.Distance: 6 or 12 miles Rating: Moderate or Difficult Driving Time: 1.5 hours Elevation Gain: Approx. 900 feetLeader: John Winn, 865-824-6200  
Appalachian Hymn Sing (June 4) - At the Christ Our Savior Lutheran Church 6:30 p.m., sing some of your favorite hymns like: I'll Fly Away, Just as I am, Farther Along, Leaning on the Everlasting Arms & many more. Accompanied by the dulcimer group: Appalachian Wood & Strings Trio. 
Tellico Village Ladies Book Club (June 8) - Join the Tellico Village Ladies Book Club at Tanasi Club House to discuss the fictional book: "The Whirlwind" by Rick Mofina. Lunch will begin at 11:30 a.m. and the discussion will begin at 12:15 p.m.  
TV Woodcarvers Meeting (June 8) - The TV Woodcarvers meetings are on the second and fourth Thursday evenings from 6:30 to 8:30 p.m. in room A at the Recreational Center.  
All the King's Women (June 8) - The Tellico Community Players Readers Theater production of All the King's Women will run Thursday-Saturday, June 8-10 at the Tellico Community Playhouse, 304 Lakeside Plaza, Loudon.  
Tellico Village 30th Dinner Celebration - Celebrate Tellico Village turning 30! with a dinner celebration on August 24th. 
And wait, there is more! If you play golf, the Tellico Village 9-Hole Men's League Began May 18th and residents are welcome to join. The 9-hole league is designed for players who look to play competitive golf on a 9-hole scale.  
If you are into computers, Tellico Village Computer Users Club will have an Open House on June 2. The Club was formed in 2001 and is the second largest club in Tellico Village, with 1,200 members in 844 households at the end of 2016.  
Located in the foothills of the Great Smoky Mountains, Tellico Village sets a standard for waterfront retirement communities, not only because of its amenities and activities, but also for its affordable homes, professional management, and wonderful friends and neighbors. And there are also added benefits in Eastern Tennessee, such as low taxes, low costs of living, and mild four-season weather. 
For lakeside retirement, there aren't many better places in the southeast USA. Tellico Lake is considered one of the best lakes near Knoxville TN because it is clean, with warm water, stunning mountain views, and nearly 16,000 acres of surface area to explore. Whether you want to enjoy the lake by boat, on a stroll, or by going for a swim, there are many ways to enjoy a life of lakeside retirement.  And while its one thing to read about Tellico Village online, its a whole new world when you can truly experience it for yourself. 
If you plan to explore waterfront retirement communities in Tennessee, summer is the prefect time to visit Tellico Village on one of the most beautiful lakes near Knoxville TN. During your visit, you can expect to meet friendly people, and experience some of the great activities in the community. In the words of one Tellico Village property owner, "Wonderful amenities, beautiful lake, great people, low monthly neighborhood fees and low taxes. The Smokies are close by. A perfect place to retire!"
Call Tellico Village directly at 888.287.0676 to schedule a tour.
Other Real Estate News