Real Estate News, Tennessee
Rarity Bay Adds New Pickleball Amenity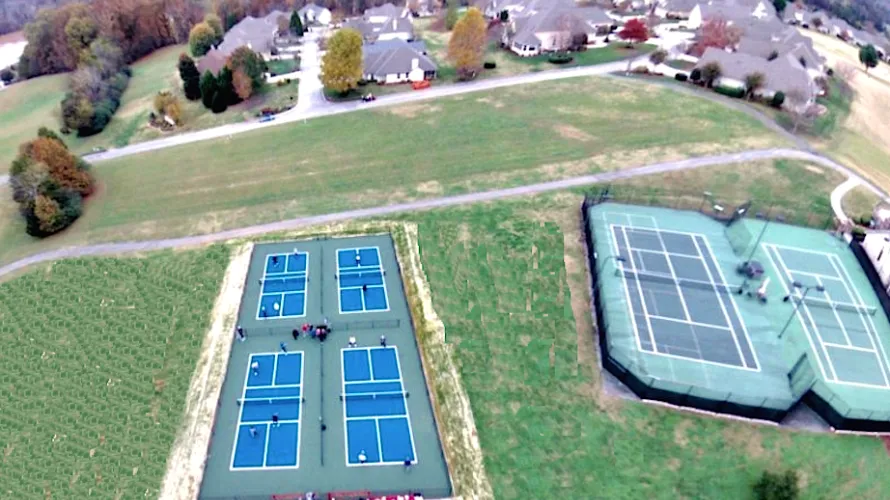 Published on April 5, 2018
Baby Boomers country-wide are choosing to discard the old notion of growing old. Instead they are consciously thinking young and getting fit so they can enjoy their retirement to the fullest. Sports and fitness amenities rank high on the list of the top most requested amenities in the future neighborhoods of retiring boomers headed south.
Trends come and go when fitness is a component, but there is no denying that one of the fastest growing sports today is the low impact and exhilarating sport of Pickleball.  Originating in 1965 by former State Representative Joel Pritchard and a couple friends when seeking to play a round of badminton couldn't find "the shuttlecock" to volley, they created a racquet frenzy that has grown to become one of the most popular social sports today.  It too is also quickly becoming one of the most talked about amenities in lakefront retirement communities across the country. Pickleball clubs are growing in number and developers are taking notice creating neighborhoods that include pickleball courts to accommodate this rapidly growing craze. Rarity Bay is one of these communities.
Rarity Bay located on the shoreline of pristine Tellico Lake in Tennessee embraced by the Great Smoky Mountains. What most folks don't know is that downtown Knoxville is only 30-45 minutes away  and is a vibrant historic city on the waterfront. West Knoxville is even closer with the super-sized Turkey Creek shopping mecca.
Rarity Bay recently added four new Pickleball courts next to two tennis courts already in place. This super friendly Tennessee community has some of the most stunning views of the Great Smoky Mountains off in the distance. The affordable, serene environment is away from big city living making it one of the top retirement destinations in the country.
Buyers searching for Tellico lakefront homes for sale won't want to miss exploring Rarity Bay, a neighborhood where residents combine country club living with golf, tennis, hiking trails, horseback riding, boating, and now pickleball too! Rarity Bay offers lakefront homes with private docks or residents have access to the community's dock.
Imagine waking up to views of Smoky Mountains or the 150-acre, 72-par golf course designed by D.J. Victor and Peter Langham complete with velvety greenways, a driving range and meticulously manicured putting greens to start the day.  The professionally managed Equestrian Center at Rarity Bay offers the option of a guided trail ride along the lake. There are 125 acres of trails integrated throughout this naturally preserved landscaping with austere views of Tellico Lake.
Workout at the Fitness Center or take your four-legged friend for a stroll for Yappy Hour at the Rarity Bay's dog park. Life doesn't get better than this. End the day with Rarity Bay's French-Country Clubhouse. This inviting 11,000 square foot clubhouse radiates with warmth, good food and fine wine. Complete with a full-service bar, a delicious mouth-watering menu and a comfortable bistro setting, the ambiance that radiates here creates the perfect way to toast another beautiful sunset over the crystal-clear waters of Tellico Lake.
If you love pickleball and lake living, take the opportunity to discover Tellico lakefront homes at Rarity Bay, one of the premiere lakefront retirement communities. Tennessee continues to be of the fastest growing regions of the country to live and is recognized as "Tennessee's Most Exciting City", "Top 10 Places to Retire", and "10 Best Cities to Relocate to in the U.S."
Call Karen Millikan now at On the Lake Realty 423.519.3258 ext 1 to schedule a tour!
Other Real Estate News