Real Estate News, Tennessee
Good News and Happy Days Continue at Rarity Bay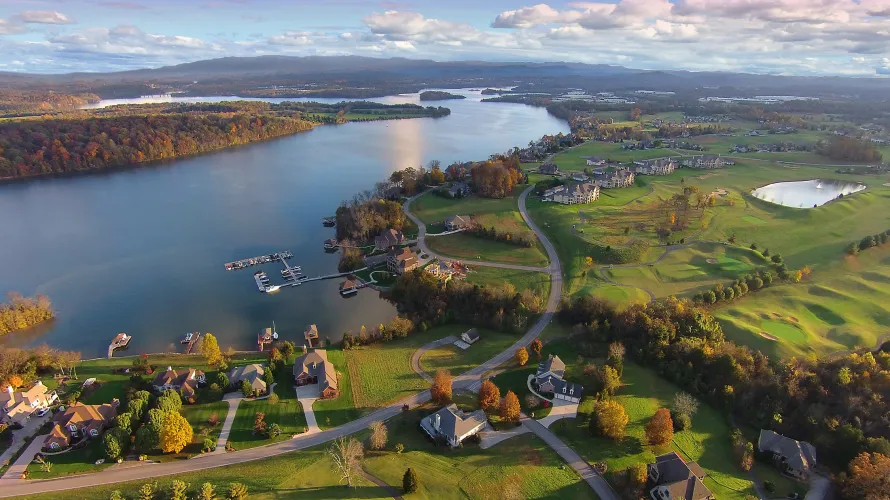 Published on May 30, 2017
If you dream of lakefront living coupled with magnificent mountain views, you'll want to know about what's going on these days at beautiful Rarity Bay, a friendly gated community bordering one of the most scenic lakes near Knoxville TN.  Spanning the shores of Tellico Lake and facing the grandeur of the Great Smoky Mountains, Rarity Bay has lots of good news to share about the progress they've experienced in 2016. This includes renovations to the Enrichment Center Building, updates to the fitness center, and continuing improvements on the lakefront golf course. 
In the summer of 2016, Rarity Bay's Enrichment Center was closed to repair some structural issues. By the end of the 2016, this issue was fixed, and the fitness center was reopened to club members. Members also enjoy improvements to the tennis courts and swimming pool, with over $25,000 newly invested in these amenities.
This month, the developer announced that the Fitness Facility will soon double its current size, with enhanced amenities planned for the entire building, including two brand new pickleball courts, a covered pavilion with seating, televisions, and a tiki bar, and new restrooms for members and their guests.
In 2016, Rarity Bay also made significant improvements to the lakefront golf course, with more than $600,000 spent on new equipment, irrigation and maintenance. Trees were cut to improve the flow of the course, and steps were taken to improve the quality of the turf along the greens. Further changes resulted in a tripling of the acreage, from 35 acres to over 90 acres now being maintained. Improvements to lakefront golf course will continue in 2017, with several golf tournaments planned, including the upcoming Member/Guest Tournament, and The BIG CUP/Superintendent Revenge Tournament. Additional plans for 2017 include upgrading club carts and replacing course signage. 
At The Bay Bistro, members savor delectable lunch and dinner menus, with items like soups and salads, flatbread pizzas, steaks, seafood and beef hamburgers. And on Sundays there is a popular brunch from 10 am to 3 pm, with omelettes, sandwiches, signature salads, and waffles hot off the griddle. Be sure to ask about their mouthwatering prime rib when you visit.
QUICK SUMMARY OF RARITY BAY PROGRESS IN 2016
New Entry Signage Installed
Directional Signage Produced and Installed
New Website and Facebook Page Launched
Decommissioned Old Website
New Seasonal Menus at Bistro
Entrance Cleaned and Refurbished
Successful Member Guest Tournament
Memorable Club Championship
Outstanding Parade of Homes
Model Home and Discovery Center Open
Real Estate Offices Established
Rarity Bay Site Map Produced
Marketing Material and Collateral Produced
We know there are plenty of reasons to fall in love with Rarity Bay beyond the upgraded amenities. Whether you enjoy boating on the lake, fishing from the community docks, or socializing with friends and neighbors at the club, there are a variety of ways to spend your days at the lake community. 
Did you know Rarity Bay is one of the few lakefront retirement communities with an equestrian center?  Here you'll find professionally maintained stables, a lighted show arena, and acres of riding trails (also great for hiking), all along one of the most beautiful lakes near Knoxville TN. Rarity Bay also has an active dog park and a large community garden. In the garden, residents grow fresh flowers, and home grown produce, which often makes it to the table when you eat at The Bay Bistro.
Take a peek at homes at Rarity Bay. Here's another lakefront home for sale at Rarity Bay we found of interest:
145 Pineberry Drive, Vonore, TN | 3 Bedrooms 3.5 Baths | 3,360 Square Feet
This home has spanned the decade with it's charm and modern updates! Once called ''The most photographed home in Rarity Bay'' by a magazine! Beautiful onsite finished hardwood floors, neutral colors, granite in Both level kitchens, upper and lower masters. Long range lakeviews w/ fall colors to knock your sox off! ELEVATOR and other handicap ramps ect. to save the knees! One of only 2 or three actual Boat ''Houses'' complete w/ awning and roll down garage door. 2.5 car upper garage and lower garage and workshop that would hold 2 or 3 cars.
What makes Rarity Bay one of the top lakefront retirement communities, are the many ways property owners socialize together and how they give back to the local community in times of need.
Last September, residents held a benefit for Karey Daniel and Molly Orr, two employees of The Bay Bistro, who were injured in a car accident. The event was a success, drawing over 120 people, and raising nearly $18,000 dollars for the victims and their families. Events like these make this a great community to be a part of.
For July 4th 2016, there was a wonderful picnic down by the lake with snow cones, karaoke, food, fireworks, and fun for the whole family, and the community plans to do it all again this coming 4th of July. Make plans and come meet some of the friendliest folks in Tennessee.
With approximately 900 existing homeowners already living in Rarity Bay, you'll quickly discover why it's one of Tennessee's most popular lakefront retirement communities. Whether you want a lakefront home with incredible Smoky Mountains views, or a home along the golf course, it's a great place to own a second home or a primary residence. 
Why not live on one of the most scenic lakes near Knoxville TN? Plan your trip to Rarity Bay and see all that it has to offer. 
Call Karen Millikan direct at On the Lake Realty 423.519.3258 ext 1 to schedule a tour.
Other Real Estate News