Real Estate News, South Carolina
Discover Beaufort and Celadon This Fall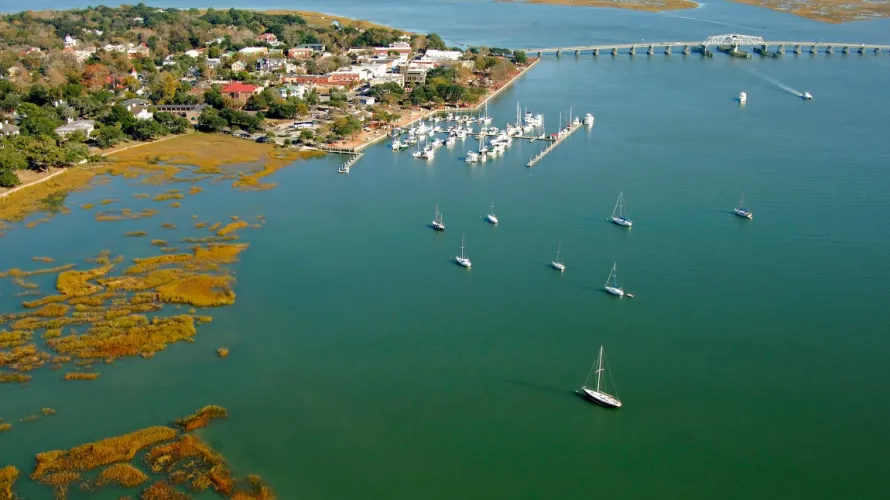 Published on September 11, 2020
If you're planning a trip this fall to explore southeastern retirement communities, you should seriously consider having Beaufort, SC on the list. Here are just a few reasons we love Beaufort in the fall, and one community you should definitely check out while you explore the real estate in the popular South Carolina coastal town.
Perfect Weather – by the time late September rolls around, the daily temperature in Beaufort has usually dropped from the low 90's to the low 80's. That change, coupled with the lower humidity levels, make it an absolutely gorgeous time to be outside enjoying everything the charming coastal town has to offer.
Beach Combing – Nearby Hunting Island, South Carolina's most popular state park, gives visitors a glimpse of what it was like for the area's earliest visitors hundreds of years ago. In addition to the weather being perfect for long walks on the beach, the fall is also prime time for seashell hunting thanks to the storms in the Atlantic churning up the seas.
Oyster Roasts – Fall is primetime oyster season in Beaufort. And with oysters comes oyster roasts, a social tradition that celebrates everything great about the Lowcountry – fresh seafood, outdoor living, and friendly people. Whether it's at an outdoor community event, or in a neighbor's backyard, great friends are made around the "shucking" table.  
Lowcountry Exploring – one of the many benefits of living in Beaufort is the close proximity to world-class destinations like Charleston, Savannah and Hilton Head Island. With the end of summer also comes the end of peak tourist season, which means it's a perfect time to explore the beautiful beaches of Hilton Head, play one of the many award-winning golf courses, or just stroll through the historic downtowns of Savannah and Charleston.
Celadon
While in Beaufort, check out Celadon, a top retirement community located on Lady's Island. Celadon takes full advantage of its picturesque surroundings, a landscape filled with live oaks and Spanish moss, by providing parks, playgrounds and miles of walking trails, all designed to encourage residents to get outside and stay active.  
Complimenting the natural surroundings is the classic Lowcountry architecture found throughout the community, including the Saluda River Cottage model, recently completed by Artisan Custom Homes.
The 1,600 square foot, charming Lowcountry cottage has three bedrooms and two and a half baths, a screened porch, one-car garage and a spacious floor plan. The cottage also features high-end finishes like quartz countertops stainless steel appliances, and Merillat cabinetry. You can check out a virtual tour of the cottage here.
In addition to the Saluda River Cottage, Celadon's Phase 3 has recently been released, and there are a number a new homes under construction that will be available soon.
If you're considering retirement in South Carolina, or searching for the perfect coastal real estate, you'll want to add Beaufort to your travel list this fall. You'll also want to consider Celadon's Discovery Visit package, which gives you three days and two nights to explore both the community and everything else Beaufort has to offer. Accommodation choices range from award-winning B&Bs in historic homes to an upscale boutique hotel in the heart of downtown Beaufort.
For more community information, visit the Celadon community page or our Beaufort overview.
Other Real Estate News