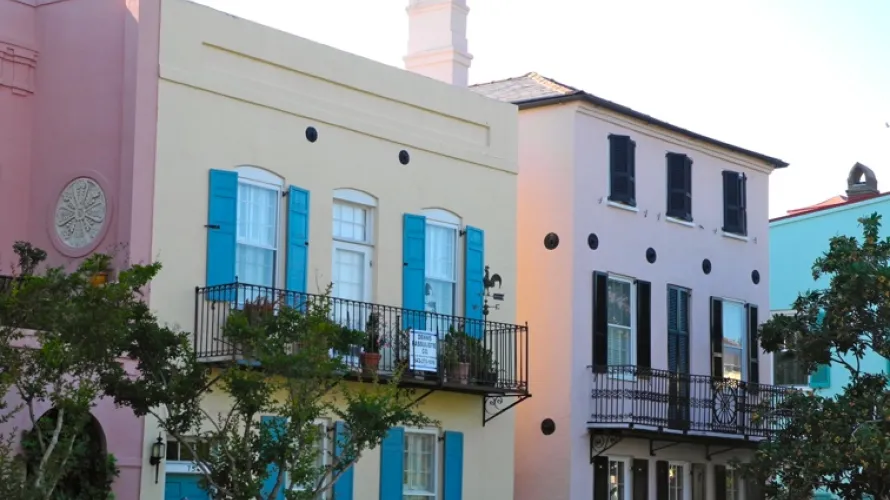 Skyscraper bridges connect more than a dozen islands in the Low Country of Charleston. This 300-year-old city is rich with culture attracting history buffs, foodies, and beach goers. Its barrier islands including Sullivan Island, Kiawah Island, Seabrook Island and Johns Island are included on the list of America's Best Beaches making historic Charleston one of the top places to live in South Carolina. Historic downtown homes showcase 19th century architecture overlooking White Point Gardens, the city's beautiful waterfront park. Nearby, Rainbow Row is one of the most photographed streets in Charleston with 14 homes dating back to 1740 painted in pastel colors. 
Locals refer to Charleston either as  East of the Cooper or West of the Ashley. These are two rivers that frame downtown Charleston, and the harbor is still one of the largest cargo seaports on the East Coast. The Isle of Palms Marina and St. Johns Yacht Harbor are deepwater marinas off the Intracoastal Waterway and cater to the Charleston boating community. Take a horse-drawn carriage ride when you arrive to learn about history and the good life living in Charleston. If you're seaching for the best neighborhoods in Charleston SC, here's where to find the most popular coastal retirement communities:
EAST OF THE COOPER - Mount Pleasant, Isle of Palms and Daniel Islands are the neighborhoods north of the Arthur Ravenel Jr. Bridge, one of America's tallest skyscraper bridges.. Age-old Mount Pleasant is quickly becoming one of the most desirable areas to live East of the Cooper. Home prices in Mount Pleasant average $270k. Homes on the Isle of Palms average $720k.
WEST OF THE ASHLEY - Folly Beach, Johns-, James-, Seabrook-, and Kiawah Islands,  are the most popular islands south of downtown Charleston. Celebrities and scratch golfers call Kiawah Island home. The area is laid-back with historic plantations, moss-draped trees, and tidal estuaries decorating the landscape. The Ashley River,a popular sailing river with meandering waterways, leads in all directions. West of the Ashley home prices average $210k. Seabrook Island homes average $400k. Folly Beach homes average $530k. Kiawah Island homes average $940k. 
THE PENINSULA - Known for the French Quarter, this is in the heart of downtown Charleston. Cobblestone streets and preserved Colonial homes here define Charleston. Terrific restaurants, outdoor cafes, live entertainment, and art galleries are all within walking distance of the historic homes. Homes can easily exceed $1 million along this French Quarter.
NORTH CHARLESTON - Locals refer to the area as Flowertown because of the millions of azaleas and camellias that bloom in the spring. Many neighborhoods can be accessed without crossing over waterway bridges, and the area is in close proximity to the Charleston International Airport. This Low Country real estate averages $120k.
The best neighborhoods in Charleston SC feature Colonial, Queen Anne, Georgian, and Greek Revival architecture.  As one of the top places to live in South Carolina, here are more reasons to consider moving to Charleston:
ARTS AND CULTURE
Charleston's Museum Mile is  Charleston's cultural corridor with many museums and historic sites. The Gibbes Museum of Art and Charleston Museum showcase Low Country history and priceless artifacts. The Confederate Museum and Old Slave Museum recount America's history in the South. Charleston's Magnolia Plantation, Boone Hall Plantation, and Middleton Place reflect 300 years of history and have magnificent gardens to stroll through.   Now a commissioned naval museum, the aircraft carrier USS Yorktown is docked at the mouth of the Cooper River. 
The North Charleston Performing Arts Center is the largest entertainment venue in the Low Country hosting concerts and sporting events. Opera Charleston presents world-class artists to Charleston at the Memminger Auditorium.  Theatre Charleston perform world-class plays, dramas, and off Broadway musicals in and around Charleston. The Spoletto Festival USA in late May is the Low Country's largest 17 day performing arts festival. 
CLIMATE
At an elevation of 20 feet, with warm to hot summers and over 200 sunny days. Average summer temperatures range from the high 70's to the low 80's making this one of the best beach towns in South Carolina.  The average winter temperature is 50 degrees. The average annual snowfall is 1 inch. Hurricanes and flooding are Charleston's biggest weather hazards.
LIFELONG LEARNING CENTERS
In the heart of downtown, the College of Charleston offers more than 100 degree seeking courses in liberal arts and sciences. For mature adults, the university has a Center for Creative Retirement. Studies take place May through September at the St. Joseph's Family Center. Courses include history, political science, the arts, literature, and music. There are also great courses offered at the community colleges in Charleston SC.
South Carolina law provides a tuition exemption for residents 60 and older taking classes at state colleges (nominal fees may apply). Seniors can generally take any class offered, but many colleges also have specialized senior learning programs.
The Mount Pleasant Senior Center offers a variety of fitness classes, art courses, Internet technology and social activities. The cost is $72 per year.
MEDICAL AND HEALTH CARE
The Medical University of South Carolina, a 700 bed teaching hospital, is one of the country's top medical schools. In 2009, U.S. News & World Report named MUSC Health "One of America's Best Hospitals" in seven specialty areas, with nearly 300 MUSC Health physicians making the prestigious Best Doctors in America list. 
The Roper Hospital, Bon Secours St. Francis Hospital, and Roper St. Francis Hospital Mount Pleasant have more than 90 medical facilities and affiliated doctors in the area. With the addition of its new Heart and Vascular Tower in 2006, the Roper Hospital is one of the most sophisticated medical facilities in the region., Bon Secours St. Francis Hospital is a state-of-the-art and acute care facility, known for its compassionate, quality care which are important to the coastal retirement communities.
RECREATIONAL SPORTS
The Charleston Riverdogs, a minor league team, play at the Joseph P. Riley, Jr. Park.  The Charleston Stingrays, the region's hockey team, are part of the ECHL league.  Daniel Island is home to the Family Circle Tennis Center, an award winning 32-acre tennis facility that hosts world-class tennis championships.
Charleston is known for being the Birthplace of Golf. Kiawah Island has five championship courses. In August 2012, the PGA Championship event was held on Kiawah's Ocean Course. 
The meandering rivers and tidal pools of the Low Country invite kayakers and boaters alike to explore bird and marine wildlife.
SHOPPING AND DINING
Just about every brand name retailer and big box store can be found in Charleston. The largest shopping malls include Citadel Mall, Northwoods Mall, Mount Pleasant Town Centre and Tanger Outlet Mall. More unique shopping experiences can be found in the French Quarter in downtown Charleston.  Handmade Sweetgrass baskets are local crafts and can be found at the City Market.
According to Yelp, there are over 700 restaurants in the Charleston area and the region has some of the best restaurants you will find in the south. From elegant five-star restaurants to casual seafood joints, Charleston offers just about every type of dining your heart could desire.
HOME AFFORDABILITY AND TAXES
The average price of Charleston homes vary because the city is so large. Generally speaking, home prices average $228,000 in Charleston. Fast-growing cities like Mount Pleasant and Daniel Island, east of the Cooper, are among the best neighborhoods in Charleston SC. Folks who prefer a quieter way of life can find beautiful neighborhoods west of the Ashley. Beachfront homes can be found on the Isle of Palms, Seabrook- and Kiawah Island. The Battery, in downtown Charleston, is where you'll find historic waterfront homes within walking distance of fantastic restaurants, museums and art galleries. 
Charleston's estimated property tax millage rate is $.0546 per 25% of $100. If you live within the city limits of Charleston, there is an additional estimated city tax of $.208 per 25% of $100. Visit our library to find help and to learn how to calculate property taxes in Charleston South Carolina. If you're searching for one of the top places to live in South Carolina, we're confident you'll find it here.