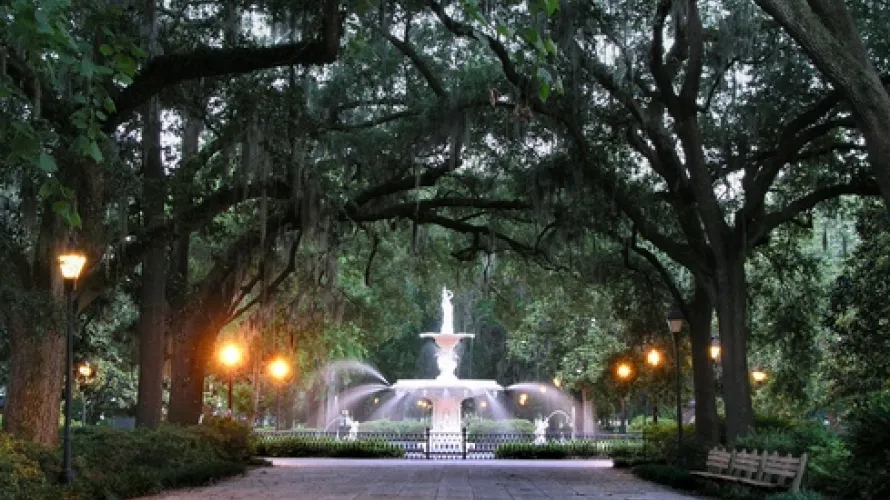 Challenge yourself to a bumpy walk on the cobblestone streets or explore 22 park-like squares in the historic, downtown Savannah neighborhoods. Nicknamed Hostess City of the South, its Southern charm and warm hospitality attract over six million visitors each year, some searching for the best master planned communities in the Low Country. A combination of old and new, Savannah has an interesting mix of places to shop, dine, educational opportunities, and many points of interest such as the Pirate's House built in 1753, the mystery tunnels hidden beneath the city and the fact that Henry Ford chose one of Savannah's neighborhoods for his winter home. Savannah is also one of the best art towns in Georgia and home to the Savannah College of Art and Design known as SCAD. 
Combine all of that with the beautiful gated communities and waterfront neighborhoods along the Intracoastal Waterway and it wouldn't surprise you to learn that Money Magazine named Savannah, Georgia one of the Top 100 Places to Retire. In 2012, Forbes magazine named Savannah one of the Best Cities to Retire In. The rich culture, Low Country charm and beautiful beaches add to the quality of life found here and at the Landings club.
If you're searching for places to retire in Georgia, here are reasons to consider Savannah neighborhoods:
ARTS AND CULTURE
Majestic oak trees, cascading Spanish moss and antebellum homes dot the streets of downtown Savannah. Take a leisurely stroll along the Riverfront and tour one of the best art towns in Georgia with the largest art school in the country, the Savannah College of Art and Design (known as SCAD) where retirees and young folks find an extensive line up of art classes and design classes at  SCAD. With great food and great jazz and blues music, more than 200 festivals take place year round in downtown Savannah. The festive Savannah St Patrick's Day parade is the city's largest celebration and is on the list of fun things to do in Savannah GA. Telfair Museums consists of three art museums: Telfair Academy which houses historic art, Owens-Thomas House, a preserved mansion with intact slave quarters and the Jepson Center (art-zee-um) interative children's museum. 
CLIMATE
At an elevation of 49 feet, the average temperature December through February is in the 50's. May through September, the average temperature is in the high 70's. Savannah's biggest weather hazards are hurricanes.
LIFELONG LEARNING OPPORTUNITIES
Georgia Institute of Technology, commonly referred to as Georgia Tech, has a satellite campus in Savannah.  They offer Professional Education programs which do not have minimum requirements or other prerequisites for enrollment.  Armstrong Atlantic State University has a Road Scholar/Elderhostel program in Savannah offering in-depth lectures, fascinating field trips, and cultural experiences. Interestingly enough, cooking schools have also become very popular near the best master planned communities or a Savannah country club.
MEDICAL AND HEALTHCARE
Quality medical care is available throughout the area.  Memorial University Medical Center offers World-Class Healthcare. It is an award-winning 610-bed academic medical center that serves southeast Georgia and southern South Carolina. St. Joseph's/Candler's, with five Centers of Excellence, is also nearby.
RECREATIONAL SPORTS
Fun things to do in Savannah GA include playing at one of 60 golf courses and exploring 80 miles of coastline with barrier islands surrounded with unspoiled, undeveloped beaches making places like the Landings club a haven for those who enjoy activities such as golf, fishing, and boating.
The beaches of Hilton Head or Tybee Island are nearby. Tybee Island is a quieter beach vacation home location than busy Hilton Head Island.  The population of Hilton Head Island triples during season to 100,000 people. Tybee Island population swells to ten times the normal population of 3,000 up to 30,000 people on summer weekends. 
SHOPPING AND DINING
With quaint cafes and five-star restaurants, Savannah fuses fun and elegance in the dining experience. Flavors from every corner of the world found in Savannah. Exquisite antique shops, interesting collectible shops, and art galleries provide a shopping experience that exemplify the charm of this historic city and the Landings club. Also in Savannah, the Oglethorpe mall provides popular anchor stores, a fitness center, specialty stores,  and a variety of restaurants. River Street Market Place is located along the Savannah River and is a popular open-air shopping experience with over 60 vendors. 
HOME AFFORDABILITY AND TAXES
Savannah homes for sale average $104,000 and are located in Chatham County. The estimated real estate tax millage rate is .01571 per $100. Visit our library to learn how to calculate real estate taxes in Savannah Georgia. If you're searching for where to retire in Georgia, we find a number of best master planned communities in the area worth taking a look.