Real Estate News, North Carolina
Public Art Changes the Face of New Bern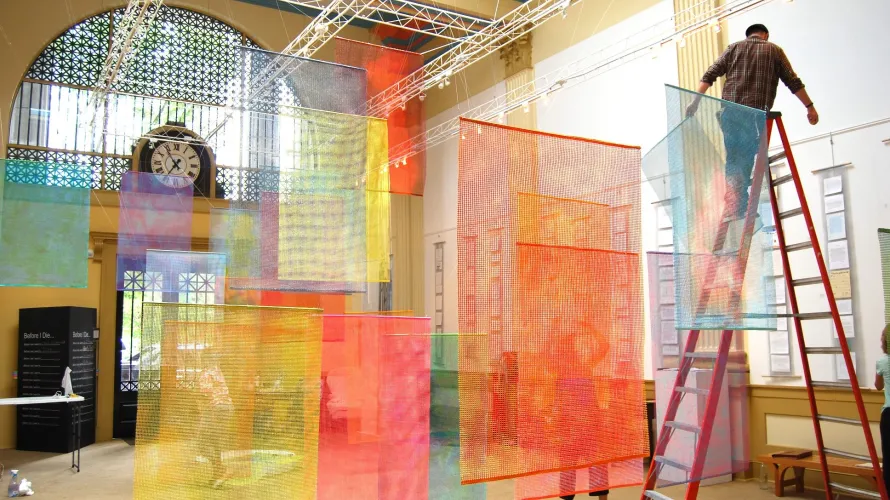 Published on July 17, 2014
Public art has been transforming the quaint seaside community of New Bern, NC for the past decade. Founded by the Swiss in 1710, New Bern is known for some of the best neighborhoods in coastal North Carolina with golf or boating, such as River Dunes, Taberna Country Club and Carolina Colours. Historical landmarks, boating and maturing pine forests are common themes in New Bern and recently public art has been added to the list.
A non-profit organization called Bear Town Bears, initiated in 2010 to celebrate the city's 300th birthday started an art movement that placed 50 Swiss Bears made from fiberglass and hand painted by local artists throughout New Bern. Among all the fun things to do in New Bern, searching for Swiss Bears throughout the downtown area has become a favorite pastime for tourists and residents, alike. 
Just outside downtown are some of the best neighborhoods in coastal North Carolina offering sporting amenities such as clubhouses, golf courses, tennis courts, pools, walking trails and fitness centers. Greenbier is almost fully developed and is in close proximity to local conveniences such as schools, shops and the airport. Taberna Country Club is rested against the Croatan National Forest and Brices Creek, which leads into the Neuse River and is a real treat for folks who really enjoy the best of nature.  These traditional New Bern golf communities offer beautiful estate homes at affordable prices; perfect for artists seeking a communal venue to showcase their art.
To the north of downtown in the 'Sailing Capital of North Carolina', the award winning boating community of River Dunes continues to attact boating enthusiasts to its protected marina and seaside village.  Amenities include:
RIVER DUNES AMENITIES
11,500 Square Foot Clubhouse overlooking the marina with dining
Grace Harbor Marina and Private 1,100 Foot Boating Access Channel
124 Deepwater Boat Slips with utilities
Outdoor Swimming Pool overlooking the marina
Fireside Hot Tub and Cozy Cabanas
Fitness Center with Steam Showers
Two Lighted Har-Tru Tennis Courts
The Lake House for social events
238 Acre Nature Preserve
Guest Cottages
Riverside Chapel
Whether you are a seasoned artist living in the New Bern community or are just looking for fun things to do in New Bern during your real estate search, residents can get involved with the public art scene by taking or teaching classes, showcasing their art in festivals, museums and galleries or simply purchasing a local piece to decorate your new home.  Here a few events and art galleries that participate in public art in New Bern:
Bear Hands Art Factory- offers Summer Camp activities for kids using an array of art medians; as well as, classes for adults.
Artcrawl:  2nd Friday of every month, features over 40 permanent locations such as restaurants, coffee shops, galleries and more that showcase and sell local art. 
Accidental Artist Studio: Paint your own pottery.
Studio at Baxters: watch local artists work during ARTcrawl
Cheshire Studios: Rent space for your own personal exhibit
CAW (Community Artist Will): chooses two venues where 20 local artists will have private exhibits to sell their art.
Greater Good Gallery: features over 50 local artists' work.
North Carolina History Center: Public Sculpture Park
According to the NC Art Council, "Creative industries are directly and indirectly responsible for almost 320,000 fulltime, part-time, and sole proprietor jobs, generating over $12 billion in wages, salaries and benefits- $2 billion more than the impact four years ago." 
New Bern has become a hallmark for museums, art galleries, art classes, and festivals that feature local artists, all walking distance from each other. By reinvented itself as a haven for public art: real estate, jobs and tourism have felt the positive impact of the economic boost while adding incredible curb appeal. 
Ask us for a free New Bern relocation information to get the scoop on New Bern golf communities or North Carolina boating communities in the area.
Other Real Estate News