Real Estate News, North Carolina
Leukemia Cup Regatta at River Dunes Raises Over $140,000 for Charity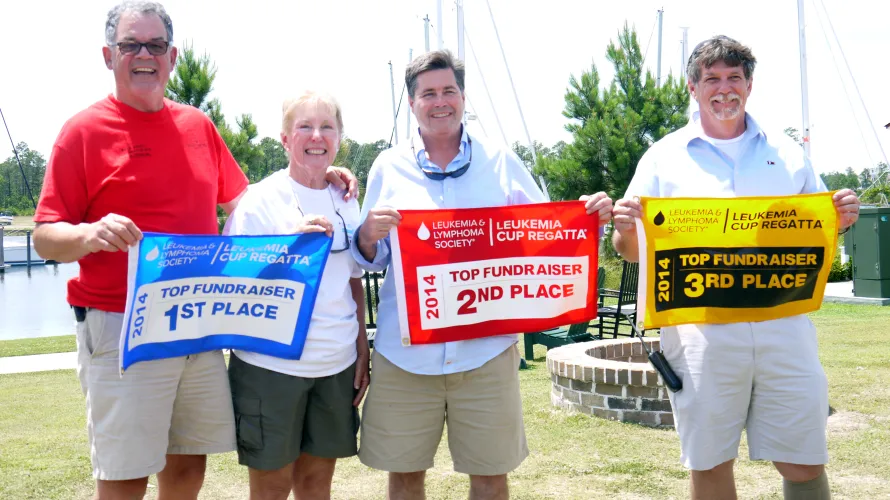 Published on July 1, 2014
Setting yet another fundraising record, the 4th annual Leukemia Cup Regatta was hosted by the friendly folks at River Dunes, North Carolina.  Held on June 7th and 8th, this sailboat racing event was a community-wide effort to help raise money for life-saving research to fight blood disorders and cancer. This year, the Oriental Dinghy Club set up two courses, one for the more serious racers and one less competitive, encouraging boaters of all skill levels to join in. The Leukemia Cup Regatta guest of honor was a twenty-two month old little girl, Egan Delaney, who is now in her second year of remission after battling leukemia diagnosed when she was only eight weeks old. Her sweet grin and giggles brought smiles to everyone's faces throughout the weekend.
The weather was perfect at River Dunes in coastal North Carolina, Real Estate Scorecard's 2014 Bliss Award Winner for Best Boating Community of the Year. The well-protected Grace Harbor Marina and Harbor Club were the scene of the before and after racing celebrations. Friday evening, the Captain's Reception featured heavy hors d'oeuvres and poolside bar service, enhanced by the soft sounds of Bob Laverty of Oriental on guitar.  On Saturday evening, River Dunes threw a first class shoreside celebration under a tent on the lawn that included a delicious dinner catered by The Chelsea restaurant, followed by dancing to the sounds of the Black and Blue Experience from Greensboro, NC.  Live and silent auction items raised over $20,000 towards the weekend goal.
Forty sailboats of all different sizes competed in the event. After a single file parade out the community's 1100 foot channel, colorful sails and sleek sailboats were spread across the Pamlico Sound for the afternoon races.  Several of the competitors were residents of River Dunes, a boating community in coastal North Carolina that continues to receive awards from all types of organizations in the boating and real estate world. As guests at the event, we witnessed first-hand everyone going above and beyond to help further the cause. In addition to River Dunes, dozens of generous local sponsors like Walmart, First Citizens Bank, Watermark, The Red Rickshaw, Trader Construction and Natcore Technology helped achieve the 2014 Leukemia Cup Regatta fundraising record.  Boat captains and teams also raised funds for the charity with the final total announced on Sunday - a check for $140,532 to the Leukemia & Lymphoma Society.  Noteworthy top boat fundraisers:
Rich Beliveau of River Dunes who raised $10,297
Bill Scott who brought in $12,100
Ken and Carol Small who raised $13,000
After talking with many of the residents, we felt a deep sense of compassion among them and how much they enjoy paying it forward. They are a community of folks who are committed to making a difference. The Leukemia & Lymphoma Society is just one of several local charities they generously support.
Amenities that the residents of River Dunes enjoy include:
Harbor Club overlooking the marina with fine and casual dining 
Grace Harbor Marina with 1100 ft Channel into Broad Creek
124 Deepwater Boat Slips with utilities Outdoor Swimming Pool overlooking the marina 
Fireside Hot Tub and Cozy Cabanas 
Fitness Center with Steam Showers 
Two Lighted Har-Tru Tennis Courts 
The Lake House for social events 
238 Acre Nature Preserve 
Guest Cottages
Riverside Chapel 
Not only is the marina village neighborhood fun to explore by land or by water, the nearby town of Oriental adds to the coastal charm. Quaint waterfront restaurants, coffee shops, and pubs overlook the town's marina and large shrimp boats. Nautical stores and roadside markets provide almost everything a boater could possibly need.
River Dunes has received great word-of-mouth, up and down the eastern seaboard.  Some  of the property owners have discovered the charming postcard-style village during their boating travels on the Intracoastal Waterway. With 14 miles of natural shoreline, most all the homes in the community have water views of one kind or another.  Homes come in all sizes and shapes but must adhere to the community building guidelines and standards.
Take a look at River Dunes homes
Recently added amenities at this boating community in coastal North Carolina include two Har-tru tennis courts and stand-up paddleboards.
Call River Dunes directly at 800-975-9565/252-249-4908 to learn more about real estate, marina slips or guest cottages accommodations. 
Other Real Estate News