Real Estate News, North Carolina
Mountaintop Living at Grand Highlands at Bearwallow Mountain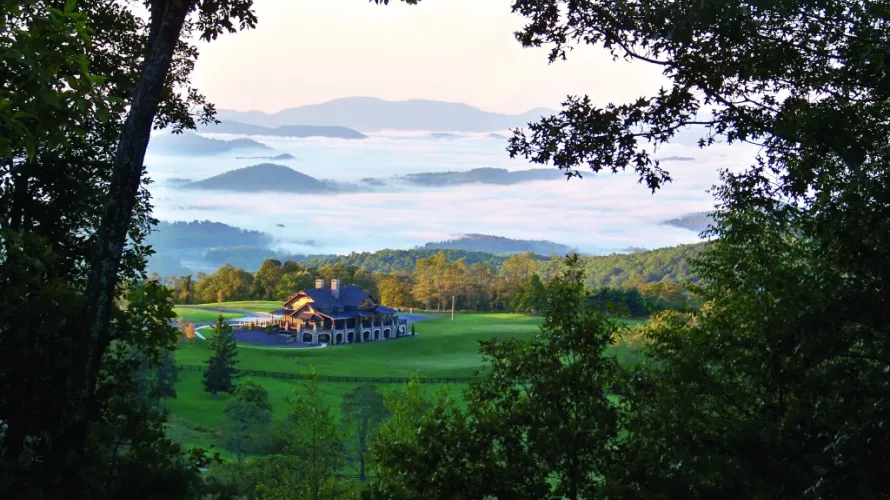 Spring is an inspiring time, when breathing in fresh mountain air with the aromatic scent of fresh blooms bursting everywhere makes one feel alive. A place where everyday strolls through a hip and trendy city filled with amazing artwork, eclectic shops, rich historical culture and exquisite eateries makes one feel blessed. For retirees exploring relocating to Asheville, it's a smart glimpse into life in one of the most affordable mountain towns in Western North Carolina.   
Surrounded by the Blue Ridge Mountains, Great Smoky Mountains, Pisgah National Forest and the French Broad River Valley, cascading waterfalls, lush topography and wildflowers of all varieties literally explode with color decorating the region this time of year. The Great Smoky Mountains is an International Biosphere Reserve and is often referred to as the "Wildflower National Park" with over 1500 varieties of flowering plants.  Bald Eagles, Peregrine Falcons, Great Blue Herons and Pileated Woodpeckers are just a few of the 200 bird species that can be seen soaring through the skies while wandering through the flowering mountain vistas nearby. The astounding scenery and bevy of outdoor activities are some of the reasons why Asheville and neighboring Hendersonville are drawing home shoppers country-wide to seek out the wide array of mountain properties that can be found nestled throughout the area.  
One of the most beautiful roadways in America is found here. The Blue Ridge Parkway encompasses 469 miles along the highest ridges of the Southern Appalachians to enjoy the breathtaking views offered here.  Often referred to as the "Rockies of the East", the area has one of the longest wildflower seasons that runs from March through October and features a wide collection of flora including trillium, tulips, azaleas, violets, Gray's Lily, Ox-Eyed Daisy, Purple and White Rhododendron to name a few. The Blue Ridge Parkway winds through the Shenandoah National Park and The Great Smoky Mountains National Park. 
There are dozens of hiking trails and outdoor activities for adventurers who enjoy healthy living in this majestic region. With a rainbow of flowers, rich forestry, wildlife and an abundance of preserved green space, it's no wonder that 15 million people flock here annually to enjoy the serenity offered in North Carolina.  It's why many visitors end up buying properties at one of the gated communities near Asheville NC to live in one of the most spectacular regions in the world.
On the fringes of Asheville is the historical mountain town of Hendersonville that allows folks the chance to "take a journey" through times past while enjoying the magnificent scenery that embraces the city.  The Main Street in downtown Hendersonville offers 16 blocks of art galleries, a wide array of dining options, antique and specialty shops and is the hub of activity.  Now is the season to explore Hendersonville.  
Talk about location, one visit and it's no wonder many decide they want to make their visit a permanent one. Did you know in 2011, Good Morning America listed Asheville North Carolina as one of the "10 Most Beautiful Places in America"?  While searching for property in some of the prestigious gated communities near Asheville NC, there's one property near the Blue Ridge Parkway with long range mountain views we know will steal your breath away.
Grand Highland is mountaintop gated community with "land spreading out so far and wide" that it is easy to see why it has become an ideal place to build a dream home or vacation retreat in the mountains of Western North Carolina, where the clouds dance. The 4,000-foot-high elevation of this prime piece of real estate provides a panoramic 360-degree view of the sculpted mountainous terrain along with gentle, easy-to-build homesites.
Named "Community of the Year" by the Asheville Home Builders Association, Grand Highlands honor is well deserved.  There is a wide array of architectural styles signature to country living equipped with all the modern conveniences to ensure that homeowners have the best of both worlds, exquisite natural surroundings with state-of-the-art design.  Amenities include a 12,000 square foot mountaintop clubhouse appointed with large dining hall, large gathering hall, bar, catering kitchen and fully equipped fitness center. Currently under renovation, the clubhouse reopening is set for 2018. 
This Asheville oasis is pleasingly affordable. Homesites for sale are priced from the low $70's to the upper $400's. Mountain cabins start in the low $400's. True southern hospitality radiates throughout the mountain community of Grand Highlands. Highland Lawn provides an open fenced green space where kids can frolic while mom and dad share a bottle of wine enjoying the captivating sunset that adorns the property where the clouds dance.
The Community Barn is another place where folks can sit back and relax.  Picnics, card games or simply sipping a cup of coffee while reading the morning paper are leisurely days spent in the serenity of mountain living. It's also a popular venue for informal weddings and family gatherings. Grand Highlands is highly social and has daily planned community events to keep folks busy year round. Activities include book club, poker night, golf club, hiking club and the Friday pub nights.
Staying fit is not only an option, but it's a lifestyle at Grand Highlands.  Breathing in fresh mountain air daily and the overall Zen of owning a home here creates a feeling of peace and helps improve overall health and well-being by cleansing the mind, body and soul.  Hiking is one of the favorite pastimes for people who are nearing retirement age and beyond. The numerous hiking trails built within the community offer rejuvenation, great exercise and a superb way to reignite the spirit.  With so many parks and forests near the property, exploring the numerous trails scattered throughout the region will take years to ever run out of outdoor adventures for owners of property at Grand Highlands. Folks are finding it as the ultimate choice for building the dream mountain property in North Carolina.
The architectural designs offered at Grand Highlands are inspired by the high country estates of the Blue Ridge Mountains and are developed to incorporate the natural beauty of the environment while maintaining the austerity of the region. With naturally preserved landscaping, the properties built here are created to blend with the lush rich meadows and woodlands that adorn this incredible piece of real estate.  Home styles are offered in a wide array of styles that include:  Arts and Crafts, Mountain, European Country and French Country to assure uniformity throughout the neighborhoods. Truly the homes found at Grand Highlands radiate the feel of country living with sophistication.
Cottage Collections at Grand Highlands offers three series of custom home plans to suit the specific needs for homeowners, especially those who are relocating to the region.  The plans offer a way for owners to design the custom home from afar.  Each pre-approved plans meet the stringent design standards set by the community and are built to reflect the unique character and budget of the buyer.  Grand Highlands has chosen the finest Asheville builders to build in their mountain retreat:
Living Stone Construction is spearheaded by Sean and Laura Sullivan and their team who have earned them the esteemed Asheville Homebuilders Association Gold Craftsmanship Award and repeat winner of the Best Single Family Home.  The green-friendly homes are designed to operate with superb energy efficiency and are built with healthy materials.  The homes have impeccable design and incorporate modern construction techniques that make this company one of the most respected builders in the Asheville community for the last 20 years.
Mountain and Lake Collection by Meritus Signature Homes has built over 300 properties over the past 10 years and is an active member of the Southern Living Custom Builder program.  In 2014, the Asheville Homebuilders Association recognized the Meritus' Toxaway model at Grand Highlands for the "Craftsmanship Award" for homes listed between $700,000 and $800,000.  Their homes radiate perfection in building standards.  Model homes are available on site.
Grand Highlands Collection by Sulaski Tinsley Fine Homes are built by nationally acclaimed builders Robert Sulaski and Mike Tinsley who have the distinction of building exquisite homes in Asheville and surrounding areas for over 15 years.  They received the 2014 honor of "Overall Craftsmanship Award" by the Asheville Homebuilders Association.  Model homes are on site for viewing their amazing work.
Luxury mountain cabins are exclusive upscale retreats offering peaceful escapes from the mayhem associated with "big city living" and everyday stresses. The Lanterns is a small cluster of 6 cabins built around a small community park that invites intimacy, peace of mind and friendships with close neighbors.  The modern day cabins are two stories and provide the ultimate vantage point with large decks offering incredible views, fresh air and a truly reviving experience.  Located within the gated community of Grand Highlands, these properties start in the mid $400's.
The spring season is stunning time to explore Asheville and the historical town of Hendersonville to experience the true essence of rejuvenation that comes every season following the hibernation of winter months.  With the largest spring bouquet of wildflowers in the country, this trip will prove to be one of the most impressionable adventures for the year.  Take the time to be revived this season at one of the most affordable mountain towns in Western North Carolinas.   
While you're searching for mountain properties in gated communities near Asheville NC, be sure to experience all the grandeur the "Rockies of the East" has to offer. Some say April through June is the best time to see the most blooms appearing at once.  There are literally hundreds of species that can be seen during this season in the picturesque mountain slopes that encompass Hendersonville.  Lady slippers, japonicas, jack-in-the-pulpit, wild ginger and evening primrose are just a few of the varieties hikers can imbibe while exploring the terrain.  The Annual Garden Jubilee Festival is a great time to plan a trip.  This 2-day Festival will be held on Saturday and Sunday, May 27th and 28th on Memorial Day Weekend and has been named one of the "Top 20 Events in the Southeast for May 2017" by the Southeast Tourism Society. 
Considered the largest gardening show in Western North Carolina, the event will feature more than 260 vendors selling thousands of annuals, perennials, vegetables, herbs and garden art to avid horticulturalists.  This spring time tradition started over 20 years and since has become one of the most popular lawn and garden shows in the South.  The temperate weather of Asheville creates a floral display unmatched by any other place in the country, including some species that can't be found anywhere else in the world. Spring is indeed the time of year that Asheville comes to life!   It is also a great spot to shop for mountain properties in one of the most affordable mountain towns in North Carolina.
Here are some local places that feature some of the best spring blooms, (with exception to the Great Smokies):
Biltmore Estate, considered America's largest house features The Walled Garden which houses seasonal blooms alongside rose and butterfly gardens.  In the winter, the Conservatory features exotic blossoms to warm the soul.  The location also features a winery that is unmatched by any other in the area.
The North Carolina Arboretum has 65 acres of pristine gardens with a wide variety of flora.  There is a Technicolor Quilt Garden, miniature blooming bonsai trees and a massive azalea garden that can be observed by foot or bike.  The Art Walk is dog-friendly and is a self-guided tour of 35 outdoor sculptures.
Lake Lure Flowering Bridge opened in 2013 with the help of volunteers who planted flowers along this historic highway bridge.  Additional flowering plants are added each year. It is "a must" to see Lake Lure, one of the most beautiful lakes in the state of North Carolina.
Craggy Gardens is known for its amazing rhododendron display in June.  A short hike along the Blue Ridge Parkway offers a plethora of wildflowers all summer long.  This is a great place to toss down a blanket, enjoy the marvelous mountain views and share a great picnic lunch with friends and family.
Botanical Gardens of Asheville is located only 5 minutes from downtown and is a hidden piece of paradise that houses hundreds of native flowers and plants.  Take a walk around the half mile path that meanders past a stream and a historic log cabin which leads to a wildflower haven.  There are more than 50 rare and uncommon species found here…and it's free!  
Grovewood Village is an exclusive garden that can be found behind the historic Omni Grove Park Inn.  Decorated with modern sculptures created by local artists, this display comes to life with the playful wind creations that entertain visitors who meander along the ivy-bordered pathways.
The DuPont State Recreational Forest sprawls over 10,268 acres and includes dazzling waterfalls and 80 miles of roadway and trails for exploring this mountainous terrain.  The public is invited to hike, bike, swim and even ride horseback throughout the reserve. Fishing is allowed with a valid NC license and hunting is by special permit only.
Pisgah National Forest encompasses 500,000 acres of lush greenery and wooded mountainous topography including thrashing waterfalls on some of the highest mountains in the Southern Appalachians, and all of the Eastern U.S. There are hundreds of hiking trails and an abundance of recreational opportunities offered here. 
Great Smoky Mountains National Park is an awesome place to view the blossoming wildflowers on the 520,000-acre reserve preserved for a lifetime.  Cherokee Indians inhabited the land for over 14,000 years and today the park is one of the top tourist destinations in the world.  Cataloochee Valley is a great place for hiking and observing the elk who roam freely here.  Fishing for trout in clear blue streams parallels the lifestyle of survival many, many years ago.  This is only an hour away from Asheville and well worth the investment of time. 
In addition to outdoor activities, heavenly surroundings, great regional cuisine, and affordability, Hendersonville has quite the heartbeat with events planned throughout the year for tourists and residents who thrive on socializing with neighbors and friends symbolic of southern living.  The town offers free festivals and events throughout the year which brings folks together.  Here are a few of the festivities that happen during the year:
Rhythm and Blues concert series are held on the 3rd Thursday of the months from May through September on Main Street offering a wide collection of live music venues along with food, beer, wine and cider from 5pm to 9pm.  There is a singer-songwriter showcase from 5 to 6, followed by the concert.  Family friendly with children's area for games and activities.
Music on Main Street happens every Friday night from June 9th through August 18th at the Visitor Center on Main Street from 7pm to 9pm.  The music genre ranges from pop, oldies, rock to contemporary.  A car show is offered in conjunction with this family friendly event.  Food and drink vendors complete the evening. 
Monday Night Live! is held every Monday evening from June 5th through June 26th and features a variety of free live performance at the Visitor Center on Main Street from 7pm to 9pm.  Come and enjoy the eclectic expressions of talent from locals.
The 69th Annual North Carolina Apple Festival, September 1st through 4th, Labor Day weekend is a must.  This yearly event showcases the NC Apple and offers nonstop live music, arts & crafts, awesome food and drink and kid's activities in downtown Main Street.  There will be the much anticipated King Apple Parade and over 150 vendors offering wares at The Apple Festival's Street Fair.  This is a great reason to visit Hendersonville and explore mountain properties in NC.
Once folks experience the ambiance of clean living in the captivating mountains of North Carolina along with the modern infusion of energy and activities in both Hendersonville and Asheville, many never want to leave.  With the overall thrill of living a life "one with nature" in a setting unmatched by any other part of the country, a favorable climate and affordability of real estate, this is one of the best places to live in North Carolina. 
If you're exploring Hendersonville for the first time, ask for our complimentary Hendersonville relocation information. It's our pleasure to help.
Other Real Estate News