Real Estate News, Georgia
Largest Parades in the USA - Savannah St. Patrick's Day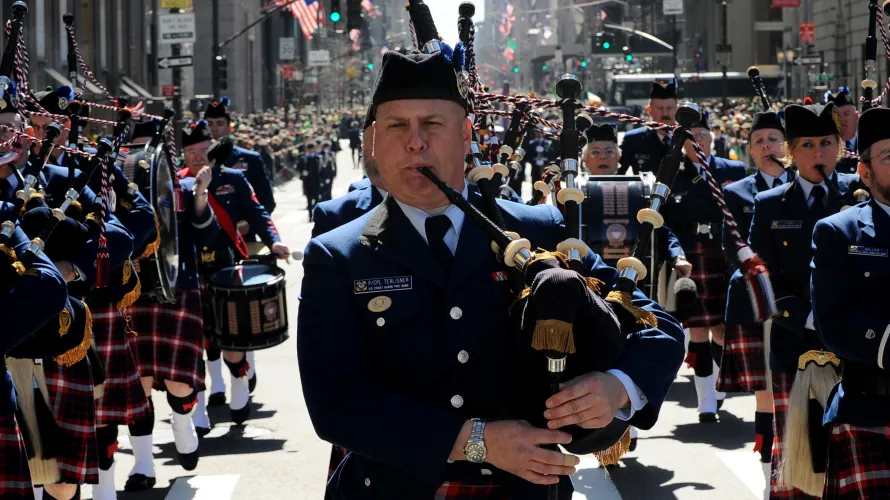 Published on February 2, 2016
Being Irish, every St. Patrick's Day, my husband and I find a new way to partake in the celebrations. We love to watch the Irish have the craic in the name of St. Patty, with clover-green beer, leprechaun hats, and lighthearted Celtic music. Over the years we've made our way to some amazing places, where not only the Irish, but everyone comes to eat, drink, dance, and have a good time. Among the best celebrations, and one we will never forget, is the fun-for-all, classic Savannah St. Patrick's Day Parade established in 1824. 
We appreciate how well the parade flows through the streets of downtown Savannah, with drum processions, carnival floats, Clydesdale horses, dancing troupes, fire engines, carriages, and bagpipe marching bands. On the sidelines there are thousands of people screaming Irish cheer, while bleacher seats overflowed with those who'd paid for the best seats. My husband and I were surprised at the expert level of organization, a credit to the members of the local community. And after the parade, we never miss the chance to spend some time exploring the beautiful streets of historic Savannah, and see the historic city as a magnificent place for retirement in Georgia. If you haven't been to Savannah, this is a great time to see how fun people can be.
The Savannah St. Patrick's Day Parade next month kicks off in traditional fashion, with a schedule including:
Golf Tournament, March 5th @ 7 am
Greening of the Fountain, March 11th @ 12 pm
Tybee Island Parade, March 12th @ 5 pm; Tara Feis, March 12th @ 11 pm
Celtic Cross Ceremony, March 13th @ 1 pm; Celtic Cross Reception, March 13th @ 2:30 pm; Celtic Cross Mass, March 13th @ 11:30 am
Mass: Feast of St. Patrick, March 17th @ 8 am; The 191st Savannah St. Patrick's Day Parade, March 17th @ 10:15 am
Be sure to spend a few extra days exploring spectacular Savannah, one of the most ideal places to live for retirement in Georgia. Some of the most noteworthy communities in the area include:
Savannah Quarters - An exclusive golf community offering a first-class Savannah lifestyle, with luxury homes on wooded lots and vast waterfront properties. With an 18-hole Greg Norman Signature Golf Course, and top-notch amenities, this is certainly one of Savannah's most ideal places to live. Residents of Savannah Quarters enjoy a fitness center, tennis garden, waterplex, social pavilion, and 2600 sprawling acres, all within a safely gated, delightful environment.
Southbridge - Southbridge is an elegant golf community, neighboring the old town charm of downtown Savannah. If you are looking for a family-oriented lifestyle, this is one of Savannah's most ideal places to live. The highlight of Southbridge is its Grand Lake Club, with a beach style pool, fitness center, private day spa, and The Grand Lake Bistro with American cuisine. If you live an active lifestyle, play your game at the Southbridge Racquet Club and Southbridge Golf Club. 
The Landings  - If you are planning for retirement in Georgia, The Landings is a true private island paradise that has it all. Located on Skidway Island, life here feels somewhat like a permanent vacation. Homes here are nothing less than southern luxury, with a world of award-winning golf at The Landings Club. If you love golf, The Landings Club features 6 incredible 18-hole championship golf courses, with challenging natural features and magnificent scenery. At The Landings Club, members and guests also enjoy choice amenities, such as tennis, swimming, fitness, dining, and delightful spa treatments. With so much to offer, this is certainly one of the most ideal places to live for retirement in Georgia.
This coming March, as the spring season begins, come celebrate the Savannah St. Patrick's Day Parade, with tons of wonderful things to see and fun for all ages. And while you're in town, sit by the river, sip an iced tea, enjoy the splendid weather, and check out the charming, historic sights of downtown Savannah.
Other Real Estate News