Fun Things to Do, Splurges
Spend Christmas in Charleston and Maybe Forever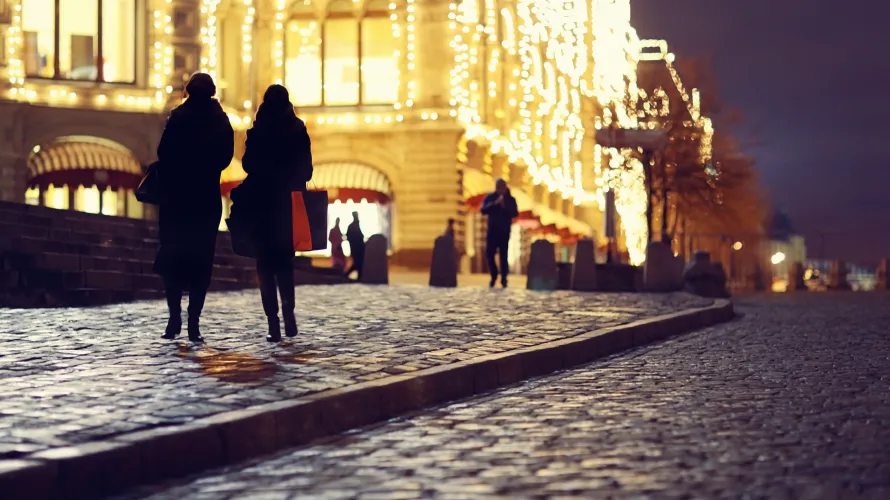 Published on November 14, 2014
"I'm going back to Charleston where I belong." Rhett Butler
This holiday season why not spend the happiest time of the year in a place that will take you back to Christmastides of yesterday? The venerable and historic town of Charleston, South Carolina, steeped in tradition, offers something for families of all ages and sizes – from romantic carriage rides for two to wonder-filled events for the grand kids. There are Charleston South Carolina hotels for every taste, so make reservations soon. Start your Charleston Holiday Tour with the Christmas Festival in North Charleston on December 6.
Traffic in Park Circle will be closed from 3:00 to 9:00 p.m. while children of all ages enjoy the petting zoo, bounce houses, and a Holiday Market. The holiday parade begins at 5:00 p.m. and ends with the Mayor of North Charleston and Santa Claus lighting the Christmas Tree at 6:30. Afterwards, enjoy musical performances on two stages, more kid-friendly activities, food, and holiday vendors that will put you in the Christmas spirit.
Wonderful Christmas events blanket this Colonial gem of a city where the Cooper and the Ashley rivers meet – starting in November with the Charleston Holiday Market on November 21-23 at the Charleston Area Convention Center – running through New Year's with dozens of celebrations to choose from. Here are just a few fun Christmas-in-Charleston occasions in one of the best cities to live in South Carolina:
December 5 – A Night in Wine Country: Taste, Shop, Stroll King Street. From 4:00 to 7:00 p.m. you can polish off your holiday shopping at a dozen fabulous stores while sampling fine wines and gourmet hors d'oeuvres along the world-famous King Street shopping district.
December 5-21 – A Christmas Carol, A Ghost Story of Christmas: This original adaptation of the beloved Dickens novella is presented by Charleston Stage at the Dock Street Theatre on Church Street. The spectacular production features period costumes and sets that will transport you. A cast of actors, musicians, singers and dancers make it a night to remember. Call (843) 577-7183 for ticket information.
December 5-12 – A Victorian Christmas at Edmondston-Alston House: Celebrate by candlelight at this historic home on East Battery, decorated in its finest 1860s holiday splendor. Costumed actors portray scenes from the last Christmas in Charleston before the Civil War. Phone (843) 556-6020 for tour times.
November 28-December 23 – Charleston Holiday Progressive Dinner: This is one of Charleston's favorite holiday traditions, now in its 29th year. Gather with friends and family for carriage rides to three of the city's most delightful venues for hors d'oeuvres, a three-course holiday dinner, and delicious dessert and coffee. The historic Kings Courtyard Inn and John Rutledge House Inn, as well as Circa 1886 Restaurant are your hosts for the evening. Tickets to this event sell quickly, so call (843) 853-7828 to check availability and make reservations.
Sleigh rides, dining, musical performances, Santa sightings, festivals, markets, and more fill the Charleston holiday calendar! 
WHERE TO STAY IN CHARLESTON
Charleston is home to many exquisite hotels and inns ranging from the historic to the ultra-modern and located in all parts of the city although downtown is the favorite spot. Many Charleston South Carolina hotels offer holiday packages that include a wide selection of dining and activities for couples and families. Here are a few suggestions to consider on the Peninsula:
The French Quarter Inn – 166 Church Street, Charleston, 29401, (843) 722-1900. Modern conveniences, Old World charm, unparalleled service, and a location convenient to Downtown Charleston attractions keep this hotel high on the list of Charleston favorites.
Wentworth Mansion – 149 Wentworth St., Charleston, 29401, (888) 466-1886. A B&B that is also a work of fine art and architecture, the Wentworth (once a private residence) will envelop you with Charleston hospitality and gentility. Each of its 21 guestrooms is unique. Treat yourself to a holiday experience unlike any other.
HarbourView Inn – 2 Vendue Range, Charleston, 29401, (888) 853-8439. This waterfront hotel in the heart of Charleston's historic district overlooks the Charleston harbor. Take a stroll on the pier or walk to excellent dining and shopping. A portion of this hotel contains historic rooms, with building elements dating back to the 1830s.
The Vendue – 19 Vendue Range, Charleston, 29401, (800) -845-7900. Also located in the French Quarter, this luxury hotel is an art lover's dream come true. The eclectic atmosphere is enhanced by an art program that fills the venue with works by artists from around the world, now including an artist in residence.
WHILE YOU'RE IN CHARLESTON
Charleston is an intimate southern town in a big way, with art, culture, and dining scenes to rival much larger cities. Add to that Charleston's famed hospitality and polite nature, and it's no wonder more and more Boomers are considering Charleston as the perfect place to retire. From gated communities to beachfront resort living, there's an abundance of Charleston SC retirement communities. Some are age restricted and many are not, yet have a large retiree population. During your holiday visit to beautiful Charleston SC, spend some time exploring!
The most popular Charleston neighborhoods to find Lowcountry real estate include:
EAST OF THE COOPER – Mount Pleasant, Isle of Palms, and Daniel Islands are neighborhoods across the Cooper River and north of the Arthur Ravenel Jr. Bridge, one of America's tallest skyscraper bridges. Age-old Mount Pleasant is quickly becoming one of the most desirable areas to live East of the Cooper. Home prices in Mount Pleasant average $270k. Homes on the Isle of Palms average $720k.
WEST OF THE ASHLEY – Folly Beach, Johns, James, Seabrook, and Kiawah Islands are the most popular islands south of downtown Charleston. Celebrities and scratch golfers call Kiawah Island home. The area is laid-back with historic plantations, moss-draped trees, and tidal estuaries decorating the landscape. The Ashley River, a popular sailing river with meandering waterways, leads in all directions. West of the Ashley home prices average $210k. Seabrook Island homes average $400k. Folly Beach homes average $530k. Kiawah Island homes average $940k.
THE PENINSULA – Locals define the historic Charleston neighborhoods on the Peninsula, which includes Downtown, as either north or south of Broad with the most exclusive residential neighborhoods being south. Also famous, the French Quarter shows off cobblestone streets and preserved Colonial homes that define Charleston. Terrific restaurants, outdoor cafés, live entertainment, and art galleries are all within walking distance of historic homes. Condos are more available than single-family units in the French Quarter, and homes can easily exceed $1 million both here and South of Broad.
NORTH CHARLESTON – Locals refer to the area as Flowertown because of the millions of azaleas and camellias that bloom in the spring. Many of North Charleston's 50 neighborhoods can be accessed without crossing over waterway bridges, and the area is in close proximity to the Charleston International Airport. Older homes, often in a charming Lowcountry cottage style, average $120k. There are also several new developments, including Charleston SC retirement communities, with prices starting in the $200k's.
In addition to a vibrant cultural circle, there are several universities and community colleges in Charleston SC. In the heart of downtown, the College of Charleston offers more than 100 degree-seeking courses in liberal arts and sciences. For mature adults, the university has a Center for Creative Retirement. From May through September, seniors can take courses including history, political science, the arts, literature, and music at the St. Joseph's Family Center. South Carolina law provides a tuition exemption for residents 60 and older taking classes at state colleges (nominal fees may apply). Seniors can generally take any class offered, but many colleges also have specialized senior learning programs. Charleston Southern College and The Citadel are also located within the community. Colleges in Charleston SC attract students from all over the country, affording opportunities for forging new friendships.
If you're planning a Christmas holiday vacation or travel, be sure to include beautiful Charleston, SC, on your itinerary. Contact us if you'd like to receive free Charleston Relocation Information. Tell us if we missed anything by leaving a comment. 
Other Real Estate News