Fun Things to Do, Splurges
Oh the Treasures You Will Find Shopping in Asheville NC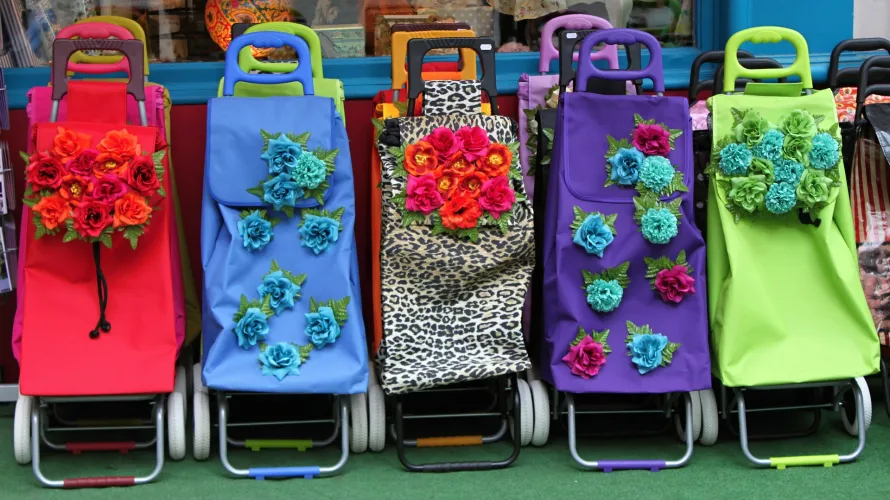 Published on December 26, 2018
Shopping at the holidays doesn't have to revolve around box stores and shopping malls, especially if you live near the art infused town found in Asheville, North Carolina.  According to a Yelp commissioned survey conducted with The Harris Poll among 2,000 U.S. adults discovered that over 150 million Americans prefer to shop local independent shops for gifts this holiday season with over $63 billion expected to be spend this year, a rise of 60% over last. Based on the findings, Asheville shopping comes in at number 2 in the list of the TOP 20, as one of the best cities to shop "local" in 2018.  Add all the fun things to do in Asheville and you have the perfect destination to find creative gifts for loved ones.
Asheville, North Carolina is a city that has a thriving heartbeat 365 days a year.  Located in one of the most beautiful regions of the country nestled in the Great Smoky Mountains, the scenery is breathtaking. The mountain town and many Asheville neighborhoods are filled with artwork and the mood is hip and trendy reflective of the 60's.  Add first class eateries, local breweries, rich history, local festivals, art galleries, culture and incredible boutiques all at an average elevation of 2,165 feet and you will discover the perfect mountain retreat that has it all.  With nearby Chimney Rock Park and views of Lake Lure (where "Dirty Dancing" was filmed), this is truly one of the most amazing cities to explore and shop this holiday season.  According to the reviews found on Yelp, here are some of the most highly rated independent shoppers to visit in Asheville for a true holiday shopping extravaganza:
Dolce Vita located in Suite 201 on 34 Wall Street downtown, phone (828) 253-1584, is a great place to shop for shop for accessories, gifts and jewelry.  These are some of the reasons that Yelp shoppers enjoyed this unique shop found in downtown, the offerings are unique with a wide array of selections.  Souvenirs that range from interesting cards to keychains.  Bottles of wine, funky earrings, a wide collection of bags and artwork from Kelly Rae Roberts that feature inspirational quotes with-of-a-kind designs.    There were several comments about the exemplary customer service and the premier location to find the ideal gift for everyone on your shopping list, including yourself!  To check out the store's inventory, visit their website.
Malaprop's Bookstore is a Café/Bookstore located at 55 Haywood Street downtown. This rare find is an exemplary place to find books that no one else has heard of.  Folks love spending hours sipping great coffee while perusing the elite collection of books offered at this impressive and well-run independent business found in Asheville.   Here are what shoppers on Yelp like most about this quaint book store.  Once folks walk through the door, they are greeted with a warm and welcoming experience from the staff.  Grab a fresh brew and enjoy perusing the wide collection of books and genres offered in this downtown nook.  Here shoppers will find an interesting collection of books including those found in the "staff picked" selection of readings.  There is a café area on the left and the right-side features staff picks.  Other gift items are pens, local goods and funky treats to enjoy.  This is a popular spot to shop and gets very busy on the weekends.  While the selection offered is impressive, the staff will be happy to order a book not on the shelf.   This is one of the favorites bookstores in Asheville for tourists and locals alike.
Asheville Emporium is another great local spot to shop at 35 Wall Street. This is a great gift and souvenir shop found downtown who received rave reviews from Yelp. Full of handmade jewelry, soaps, scented candles and local arts and crafts this unique boutique offers a wide array of gifts for those "not so easy to please" on your shopping list. Yelp comments about this locally owned store dedicated to "women celebrating women" were highly favorable.  This uplifting shopping venue is full of handmade items from local artists ranging from jewelry to scented candles, soaps and lotions.  For gifts that support the community, Asheville Emporium is the place to buy a gift with purpose.  Here shoppers can enjoy a museum that honors women, the Ami Vitale's photo display features 16 women from around the world that have received the Nobel Peace Prize.  This is considered one of the "go-to" spots in Asheville, say kudos to Heidi, the owner for creating this special store honoring women.
LOFT of Asheville located at 53 Broadway Street is yet another highly ranked shopping venue in downtown Asheville.  Known for its unique jewelry, accessories and perfume selections this is a favorite place to find the perfect gift this holiday season.  This independent store received some noteworthy reviews on Yelp.  Shoppers enjoyed the convenient parking and the wide collection of gift items. From funny socks to expressive coasters this store features everything from "cute to dirty and everything in between".  Candles, soaps, decorative pillows and tapestries and raunchy books make this a fun shopping experience for those looking for unforgettable gifts of all kind.  To find out more about the store call directly at 828-259-9303 or to peruse their gift items, visit their website.
Curio located at 2 Battery Park Avenue downtown is by far one of the best stores in the city.  Unique toys for all ages is the reason this shop has made its mark as one of the premier shopping venues in Asheville.  Folks love visiting this fun-filled store and during the holidays this is one of the busiest shops in downtown.  Finding the perfect toy is the reason shoppers flock to this destination.  This store received some rave Yelp reviews and the shoppers found that this is indeed the place to find toys from the 50's through the 90's.  This is a clever collection of new and old school toys that appeal to "kids" of all ages.  The staff is friendly, the selection and location is awesome and the toys here represent years past bringing memories to all who shop here. 
Earth Magick' looking for an "outside-the-box" gift this holiday, check out this outrageous collection of items located at 80 N Lexington Avenue in downtown.  The shopping here ranges from unique jewelry to hand-carved cow skulls.  Looking for gifts that are not found in big box stores?  This is the place to shop for that special one on the list that needs something no one else has.  According to Yelp shoppers, this place should be on the list of independently owned stores in Asheville.  Unusual gifts in a funky setting is the reason why shoppers flock here.  There are gemstones, dream catchers, tarot cards and gifts to nurture the soul.  The atmosphere is peaceful and the staff knowledgeable and friendly.  They also feature works of art from local artists as well as creations from around the globe.  Come see this interesting display of wares offering exotic gifts for the ones who enjoy something out of the ordinary under the Christmas tree. 
Better yet, schedule a trip to experience Asheville shopping first hand this month to discover some of the best independent vendors in the country.  There are so many things to do in Asheville, the time spent is worth a "lifetime of memories" shopping in one of the most beautiful cities in the country.  There is no other place to shop 'til you drop than a city full of art, five-star dining and regional pieces of art that can be found in no other place than this funky town with sophisticated Southern hospitality.
Here are a few more Yelp favorites.
Eco Depot Marketplace is the ideal spot to shop for some amazing artistic creations found at 408 Depot Street, Suite 100 in the Asheville River Arts District downtown.  This impressive art gallery offers stellar original creations offered from over 60 local artists incorporating elements related to the environment.  This is an incredible place to visit and shop for a one-of-a-kind holiday gifts for discerning friends or family members on your holiday shopping list.  Yelp shoppers were impressed with the upscale artwork made from recycled materials.  There is a wide selection of artistic expression from local artists and the creations are amazing and well worth the stop on your shopping excursion through the Arts District in downtown. 
Elementality located at 4 South Tunnel Road downtown, is an eclectic collection of handcrafted jewelry that is based on the elements of air, fire, earth and water.  The artists offerings are stunning and inspiring and the unique one-of-a-kind pieces are truly a gift that is one that will be treasured.  The stunning collection of handcrafted jewelry is "priceless", and this is one of the best places to find a treasure that will never be recreated.  Yelp reviews rated this as one of their favorite places to shop for jewelry.  It has a diverse collection of works from local artists as well as a gorgeous collection of clothing from casual to evening gowns to complement their spectacular accessories.  Also located in the River Arts District this shop comes highly recommended and the staff was recognized as knowledgeable, helpful and friendly.  
Moonlight Makers is a funky store on 43 Rankin Avenue that makes "punny" t-shirts, live screen printing, and handmade gift items.  Established in 2015 with a savvy group of best friends, moms and crafters, this independent store downtown is a fun place to shop for t-shirts with an attitude.  Folks love to create their own clothing that reflects their true personality.  Fun and frivolous place to find the perfect present for someone special on your holiday list. Yelp shoppers found this be one of the funniest places to shop in Asheville, with crazy graphics and pun-themed merchandise for kids and grownups.  They do in-store screen printing and is a great place to find a gift that will make your receiver smile.  They also have a bright teal mobile bus shop that travels around Ashville.  Looking for a cool place to play ping pong while you shop, try this "off-the-beaten track store" for super funny t-shirts, handmade goods, and creative jewelry.  
Horse & Hero is a "really cool" spot to shop for of art prints, jewelry, cards, shirts, and stickers, all designed by local NC artists.  This store is a place to find awesome gifts while supporting the thriving artists who make Asheville, Asheville.  Located at 14 Patton Avenue in downtown, this place is a favorite for locals and tourists alike.  It received lots of rave reviews from Yelp and is a prime place to visit during your Asheville shopping excursion.  If you're into the "Asheville-vibe", this store offers great artwork ranging from landscapes to animal prints at reasonable pricing.  Considered one of the best local shops to find creative works from Asheville artists, the theme is reflective of the southern Appalachian mountain culture.  Artists came here over 100 years ago to establish this mountain oasis, and this is one of the places that supports the thriving creative force that makes this town unique.  In addition to original artwork, the shop also features t-shirts, local jewelry, pins, stickers and true Southern hospitality.  There are so many "neo-Appalachian" pieces of art and crafts to choose from.  This is a must place to shop while visiting this happening mountain retreat.  Come support local artists and find a unique gift at Horse & Hero.  
Some other favorite places to find great gifts are these top-rated shops found on Trip Advisor:
Blue Spiral 1 - 38 Biltmore Avenue is a wonderful art gallery and museum and earned a 5-star rating from Trip Advisor.  Established in 1990, this impressive 15,000 square-foot gallery offers 3 floors of creative works including sculpture, original paintings and photography and is well worth the visit while doing your Asheville shopping.  In addition to a great offering of fine art, there is an exquisite display of locally crafted pottery and the exhibits alone are worth the journey to this spectacular display of local talent.  The location is ideal and can found adjacent to the City Bakery Café which offers fresh brewed coffees, snacks and delicious lunch offerings.  The items are unique and reasonably priced.  Looking for a diverse collection of artistry for purchase, this gallery downtown is the ideal spot to shop this holiday season.
Asheville Bee Charmer comes in at number 4 as the places to visit in the city on Trip Advisor.  Located at 38 Battery Park Ave, Asheville this unique shopping venue specializes in Local Artisanal Honeys, and hosts Asheville's first Honey Tasting Bar. They also sell International Artisanal Honeys, Infused Honeys, Local Beeswax/Honey Body Care and Soaps, and Locally Made Handcrafted Pottery.  Try this shop for some gifts that will tantalize their taste buds and heal the soul.  "How sweet it is" shopping in Asheville this season while supporting the local creative community that resides here.
Lexington Glassworks located in the heart of downtown at 81 S Lexington Ave was born out of the desire to create timeless and innovative hand-blown glass. Each piece is hand-crafted using century old techniques and locally sourced materials. The gallery features high quality custom lighting and handmade glass for any budget. Lexington Glassworks is a studio where the public is invited to view the artists at work while sipping some delicious locally crafted beer. This is one Asheville experience not to be missed, except on Tuesdays.  It received several 5-star ratings from Trip Advisor and should be on the list for unique holiday gifts, from original glass Christmas ornaments to unique hand-blown artwork, the collection of artistry is beautiful and watching the creations made is engaging and entertaining.  It is one stop not to miss while visiting Asheville.
Rated number two of 131 places to visit on Trip Advisor is New Morning Gallery at 7 Boston Way, in the Historic Biltmore Village has been celebrating American-made crafts since 1973.  Here you will find incredible creations from hundreds of artists featuring ceramic, wood, glass, and metal pieces of art in one of the largest craft galleries in the country. "We call it Art for Living."  Folks found this spot to offer the perfect gifts for friends and family and is like an art museum with everything for sale.  The furniture is artwork and the staff are attentive and knowledgeable.  Shoppers make this an annual visit during the holidays season and year-round for gifts that are truly one-of-a-kind, even for yourself!
When it comes to independent Asheville shopping, the list might seem endless. This exciting city has so many fun, quirky and artistic selections and there are so many things to do in Asheville while visiting this quaint yet colorful mountain town that folks fall in love with the city and never want to leave.  Have you taken the time to visit the Biltmore Estate decorated for the season, try some of the delicious five-star restaurants, explore the beautiful Appalachian Mountains and enjoy the festive shopping in this amazing town nestled in the Great Smoky Mountains?  There is no better place to be at this time of the year than the eclectic, exciting and embracing town of Asheville, NC, voted the 2nd best place to shop "local" by Yelp.
If you'd like to learn more, ask for our complimentary Asheville relocation information. It's our pleasure to help.
Other Real Estate News