Real Estate News, South Carolina
Bluffton, SC, Remains a Top Retirement Destination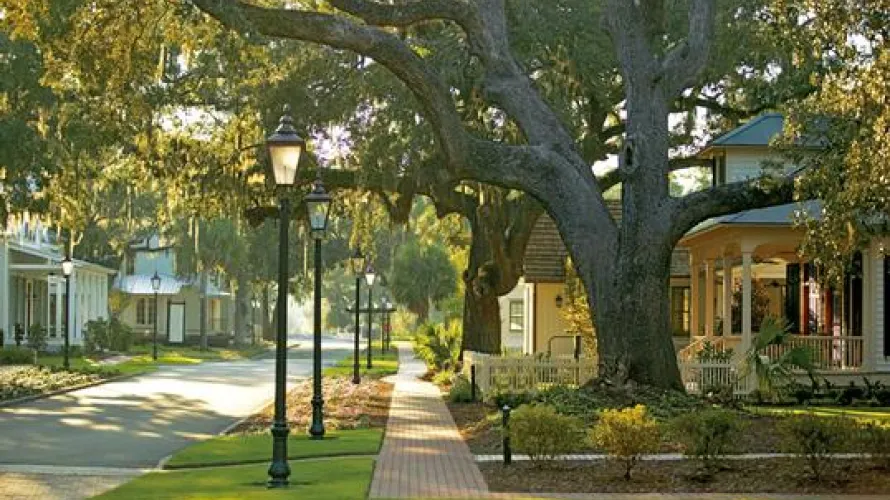 Published on November 14, 2020
Located in Beaufort County, SC, and nestled between Head Hilton Island and Interstate 95, Bluffton is a vibrant and growing coastal city that continues to rank high as a popular retirement destination in the southeast. Residents of Bluffton enjoy iconic Southern landscapes like live oaks draped in Spanish moss hanging over quaint streets, and beautiful views of the May River.
Bluffton Lifestyle and Recreation
South Carolina's beautiful coastal Lowcountry is known for its history, cultural heritage, and natural scenery. Here, you are sure to see expansive marshes, towering oak trees draped in Spanish moss, a vast array of native fauna, and awe-inspiring sunsets. 
Bluffton, in particular, is known for its exquisite natural features, bright blue skies, and refreshing sea breeze. Because of Bluffton's temperate climate, there is still plenty of greenery, even in the fall and winter seasons. Bluffton's lovely year-round weather means that flowers and other seasonal flora bloom from February until the late fall months.
Bluffton is the proud home of many conservation areas that passionately preserve the area's natural splendor. Thanks to this effort, Bluffton boasts vast stretches of green space and wildlife reserves, making it perfect for nature lovers and outdoor enthusiasts. 
There is no shortage of recreational activities in Bluffton, and as with most coastal towns, bodies of water play a big part in the lifestyle. From boating, fishing, kayaking and swimming, there are multiple ways to take advantage of Bluffton's location on the May River, Colleton River and Intracoastal Waterway. There are also plenty of land-based activities to enjoy, like golfing, horseback riding, tennis, and croquet. In short, there is always a good reason to get outdoors and enjoy Bluffton's moderate climate.
Dining and Shopping in Bluffton
Bluffton's residents will tell you that the neighbors are incredibly friendly, and the atmosphere, warm and welcoming. The streets of Old Town Bluffton, the heart of the city, are filled to the brim with art galleries, historic homes and churches, unique shops, and delicious restaurants. Other highlights of Old Town include the May River Theatre, annual events and festivals, and the popular Bluffton Farmer's Market.
But more about those delicious restaurants…
Although Bluffton is home to all different kinds of cuisine, from Mexican to Japanese to Caribbean, there is one obvious culinary trend that stands out: boat-to-table.
Incredible fresh seafood is a daily treat in Bluffton and can be found in legendary dishes like shrimp and grits or Frogmore stew (also called Lowcountry broil), or enjoyed in the form of steamed oysters at Toomer's on the banks of the May River.
Cost of Living Bluffton
The median Bluffton home runs around $350,000, although 30 percent of Bluffton real estate costs between $132,000 and $265,000, and another 32 percent is valued between $265,000 and $397,000. Of course, there are options both above and below the median, so prospective buyers have plenty to choose from. 
Bluffton's median real estate price sits squarely between the national average sales prices of $388,000 for new-build homes and $280,000 for existing homes. Although prices are near the top of the scale in South Carolina, they are far from the most expensive on a national scale.
Master-Planned Communities in Bluffton
On top of all of its incredible culture and natural wonders, Bluffton is also home to many beautiful master-planned communities.
Palmetto Bluff is one of the finest master-planned communities in Bluffton. This gated community boasts all kinds of recreational amenities, including a full equestrian center, 15 miles of scenic trails, and an 18-hole championship golf course.
If you're looking for a laidback, family-friendly atmosphere in the heart of Bluffton, there's no place better than Hampton Lake. Thanks to its proximity to Savannah, GA, and easy access to the Hilton Head Beaches, it's the perfect midway point between urban and rural life.
Some have called Berkeley Hall 'presidential,' thanks to its incredible golf amenities, elegant mansions, and meticulous landscaping. Look no further than Berkeley Hall for an immaculately upscale retirement experience. 
If you're researching master-planned communities and coastal towns in the Southeast, you should definitely shortlist Bluffton on your "top places to retire" list. After all, there's a reason people keep falling in love with this charming coastal town. Fill out the form below to receive real estate information about Bluffton or any of these beautiful communities.
Other Real Estate News