Real Estate News, National
2017 Bliss Awards - Best Communities of the Year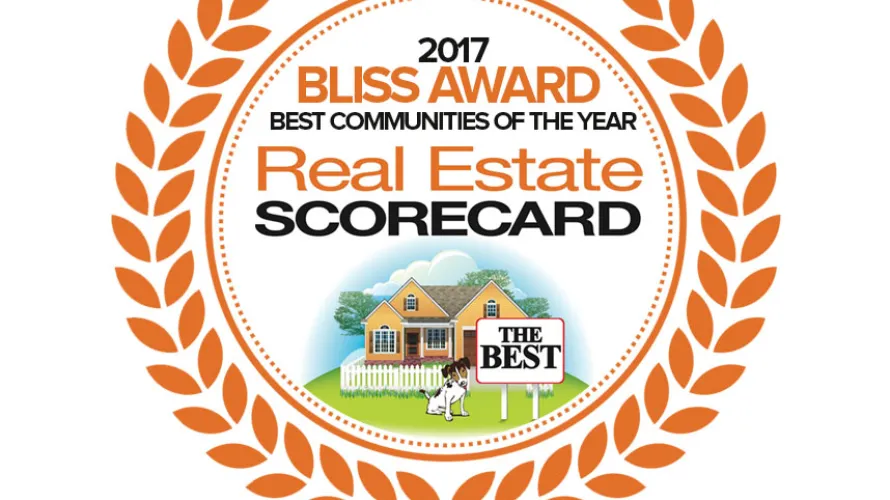 Published on January 13, 2017
Real Estate Scorecard is the industry leader of online real estate reviews, keeping buyers informed about what's happening at the most popular master planned communities in Florida, Georgia, the Carolinas, Tennessee and Central America.
Our in-depth research provides candid insight into the overall happiness and satisfaction of the 400+master planned communities we monitor. To help buyers, we've obtained over 8,600 verified property owner reviews to date, so buyers can read what property owners have to say about a community. Each year, we honor the 'best' with a Bliss Award in these 15 categories and the coveted Happiest Community in America® award:
Florida Community of the Year
Georgia Community of the Year
North Carolina Community of the Year
South Carolina Community of the Year
Tennessee Community of the Year
Beach Community of the Year
Boating Community of the Year
Equestrian Community of the Year
Golf Community of the Year
Hiking Community of the Year
Mountain Community of the Year
Lake Community of the Year
Tennis Community of the Year
55+ Community of the Year
Happiest Community in America ®
Our Bliss Awards represent genuine happiness and the highest quality of life offered within a community. On the pages to follow, you'll discover the friendliest neighborhoods, communities with a big heart along with neighborhoods with superior amenities and attributes that make them special.
Communities honored with Bliss Awards are places we believe a buyer would regret not seeing first, before making a home buying decision. Both big communities and small, both first time Bliss Award winners and some prior, these communities significantly captured our attention over the past year.
If you're in the market for a home or land and would like some assistance, answer a few simple questions on our Community Matchmaker Questionnaire and we'll promptly send you back suggestions of communities that match, even if they are not scored on our website. 
It's our pleasure to help!
Other Real Estate News