Tellico Village Pickleball Club - Top 10 in the World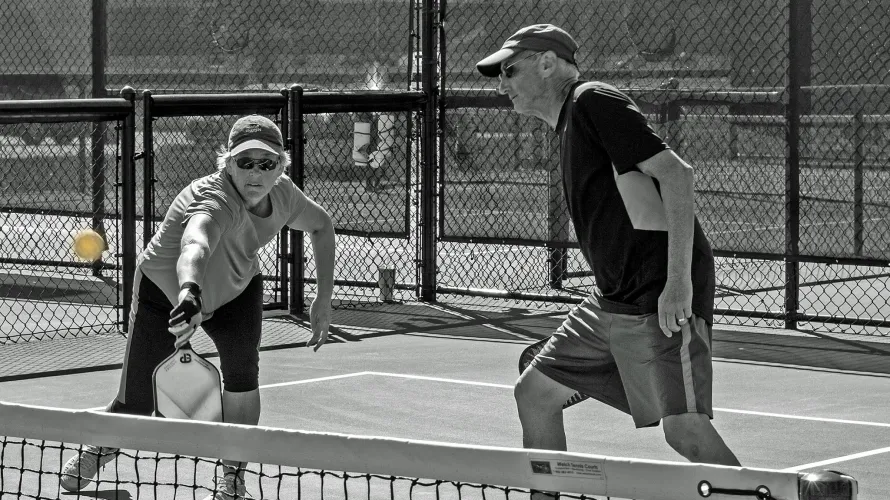 Published on January 8, 2018
Pickleball is the fastest growing sport in the entire world of "aging gracefully" Baby Boomers and as a result, waterfront retirement communities throughout the continental USA have recognized this upwardly-mobile trend and are replying to the demand for this "too hot to stop" fitness craze by providing the ultimate sports playground when it comes to building health conscious retirement homes.  Folks who have disconnected from the 9-5 scene thrive for a healthy, serene and all-inclusive resort-style community that not only embellishes a quality existence but a location that offers some of the finest landscaping the country has to offer.
Tellico Village is just the place to find Loudon TN homes for sale with comprehensive wellness amenities that include pickleball!  Situated in the foothills of the Great Smoky Mountains and along the shoreline of the pristine Tellico Lake, Tellico Village continues to set the standard for living the ultimate dream during pre- and post-retirement years and has become one of the most sought-after locations for building an exquisite lakefront home in Tennessee.
This time of year, resolutions "to get fit" abound. At the village, Pickleball has become one of the staples when it comes to staying active and socially connected during the last decade and continues to be one of the hottest trends for residents of all ages, especially seniors. It is one of the most organized master planned communities in Tennessee that offer pickleball.  The club here has over 450 members and is one of the top 10 clubs in the world!
The Tellico Village Pickleball Club (TVPC) is highly regarded in the realm of pickleball. In fact, Tellico Village has become one of the best "places to play" on the list of the USA Pickleball Association (USAPA) spots to enjoy the sport in the United States. Members of all skill levels have the option of participating in the sport for fun and/or competing in national and international tournaments.
What is Pickleball?  Pickleball is considered a paddle sport similar to a racquet game that combines the elements of badminton, tennis and ping pong.  It is played with a solid paddle and a perforated polymer ball based on the same principle as a wiffle ball.  The game is played on a pickleball court with volleying over a net between 2, 3 or 4 players.  The game originated in 1965 by former State Representative Joel Pritchard when he and a couple friends were pursuing a friendly game of badminton.  When the "shuttlecock" came up missing, Pritchard through innovation created a new game by incorporating wooden paddles from his shed, replacing the shuttlecock with a wiffle ball and lowering the badminton net by a couple of inches.   
By playing within the confines of traditional badminton techniques, Pickleball became a reality.  The name of the game allegedly was coined after his dog which is not true it was the reverse.  The name Pickleball was actually derived from the term "pickle boat" which is associated with the last fishing boat that arrives with its catch for the day.  Pritchard's dog was named Pickleball after the game was created.  Today, the sport is highly popular and is enjoyed by individuals of all ages and fitness levels.  The sport has also become extremely competitive with tournaments offered worldwide to master skills and keep enthusiasts captivated and entertained.  Due to its popularity, The National Pickleball Championship has been featured on the CBS Sports Network.
The Tellico Village Pickleball Club (TVCP) was created with a mission of promoting athleticism through the play of Pickleball and to encourage social engagement amongst the residents of Tellico Village. Not only do they offer their own in-house tournaments, they also offer on-going workshops and training for those interested in learning the sport.  Here is what TVCP and the commendable Tellico Village offers its members:
Players are assessed by a rating evaluator to determine skill levels.  Level "C"/1.5 must demonstrate the ability of 6 skills and a consistency goal of hitting 3 shots in a row without making an enforced error.  Level "B2"/2.0 must have 6 skills and a consistency goal of 6 shots.  Level "B3/2.5 must have 12 skills and a consistency goal of 10 shots.  This evaluation insures competitive play within the realm of accomplished skills.
Members have access to a complete listing of Professional Organizations and Vendors
Worldwide tournament information is available through their website with links to USAPA.org and Pickballtournaments.com.  The last tournament held at Tellico Village was the TVPBC Fall Shootout and was a great time for all!
B1, B2 or C drills are held weekly to learn patience, rallying skills, dinks and learn game strategies while sharing tips with fellow members.
Meet and Greet workshops are held weekly to encourage and develop "C" players.
Ladies Lollipop Challenge and the Men's Ladder Challenges are great ways to test skills and remain competitive with neighbors at Tellico Village.
For novice players, the TVPBC offers free introductory classes for new players providing a basic understanding of the game along with hands-on instruction of the skills required to play Pickleball.  Each session progresses weekly and new players are assigned play based on their acquired skills.
10 pickleball courts, including 8 lighted courts for resident and guest play.
Besides being a popular sport, Pickleball has health benefits worth recognizing.  On average 30 minutes of play burns 250 calories for a 150-pound person.  It is considered a low-impact activity and is easy on joints, knees, elbows and back.  It has been found to increase hand and eye coordination and as such has been helpful in managing the symptoms of Parkinson's disease. Participants enjoy an increased mood, overall mental health, balance, agility, socialization and longevity.   Today, this highly popular sport has a base of 15,000 members country-wide and is growing annually.  It is no wonder that Tellico Village is one of the top 10 Pickleball Clubs in the world with a membership base of over 500.  In addition to superb courts, the property features a multitude of activities to keep residents happy, healthy and enjoying the best life has to offer.
It is hard to find more beautiful scenery than the landscaping that graces the immaculate lakefront homes found at the massive 5,000-acre community found at Tellico Village.  Imbedded in the foothills of the majestic Great Smoky Mountains and nestled along the western shore of the 16,000-acre crystal-clear Tellico Lake, Tellico Village offers a haven for boating, fishing, swimming, and amenities that attract active Boomers to search for Loudon TN homes for sale.
Located just 31 miles away from the bustling city of Knoxville, living here in the suburbs provides the best of both worlds and is a key reason home shoppers are choosing the active lifestyle offered at Tellico Village.  As one of the most popular waterfront retirement communities in the region, here's a quick overview of the amenities offered at the village:
TELLICO VILLAGE AMENITIES
Three 18 Hole Championship Golf Courses
Lakefront Yacht Clubhouse with dining
Three Golf Clubhouses with dining
26,000 Square Foot Wellness Center
Indoor and Outdoor Swimming Pools
10 Tennis Courts
8 Pickleball Courts
Full Service Marina with Boat Slips
Community Parks
New Library
Active seniors not only enjoy pickleball competition and waterfront living, outdoor excursions provide yet another favorite past time for residents at Tellico Village.  Staying fit is easy for outdoor enthusiasts as there are 4 preserved hiking trails built within the confines of the property.  The hiking trails provide great exercise, invite exploration and fresh country air while enjoying the paradise found living in this mountain retreat.  Surrounded by the spectacular natural beauty of the Great Smoky Mountains, Tellico Village is the ultimate destination to build the perfect retirement oasis and maintain a healthy and active lifestyle in one of the most amazing property locations in Tennessee.
Home shoppers can find a variety of housing options at Tellico Village in one of the eight neighborhoods found here.  Each location is distinctive and all the neighborhoods are named with Cherokee influence which include; Chatuga, Chota, Coyatee, Kahite, Mialaquo, Tanaso, Tommotley and Toqua. In addition to fun amenities, Tellico Villages is a place where "neighbors become friends". Their highly active social calendar with over 400 social clubs to embrace and welcome new home owners makes it easy to get involved.
Tellico Lake, named one of the "Best Places in the U.S for Boating" by Boating Life Magazine is the ultimate spot for avid boaters, fishermen and water enthusiasts.  Golfing adds another dimension to living at Tellico Village with 3 impressive Championship courses strategically imbedded within the natural environment that surrounds the property.  The Links at Kahite Golf Course, The Tanasi Golf Course and The Toqua Championship Golf Course with impressive clubhouses at each greenway are a real draw for golfers.  In the center of the property is the Tellico Village Yacht Club offering superb waterfront dining and the convenience of marina services for residents to enjoy.  Residents enjoy beautiful sunsets over the lake while sharing a superb dinner sipping wine at the elegantly designed Yacht Club.  Life is indeed a dream living at Tellico Village. It's not just a home, it's a way of life.
Exercise enthusiasts are drawn to the 26,000-square foot Tellico Village Wellness Center which has an indoor lap pool, walking track, 4 Har-Tru indoor tennis courts and daily fitness classes.  Additionally, residents can enjoy a swimming pool, 2 Har-Tru tennis court and exercise classes at the Kahite Activity Center.  The Chota Recreation Center is a 17,460-square foot facility that features a heated outdoor pool, Pickleball courts, a full gym and a kid's playground.  Activity and wellness radiates throughout this health conscience community and folks enjoy aging gracefully with the "best of the best" amenities found at Tellico Village.
With New Year's resolutions fresh in everyone's minds, exploring the sport of Pickleball is a game that active folks need to add to the bucket list in 2018.  This is the perfect time to explore the exquisite lakefront homes and the exemplary waterfront retirement community found at Tellico Village.  Plan a visit to Knoxville and discover this is indeed one of the best places to retire and that Loudon TN homes for sale are indeed the best investment for a future of eternal bliss.
Call Tellico Village direct at 888.287.0676 to schedule a visit.
Other Real Estate News