Pickleball Communities for Retirees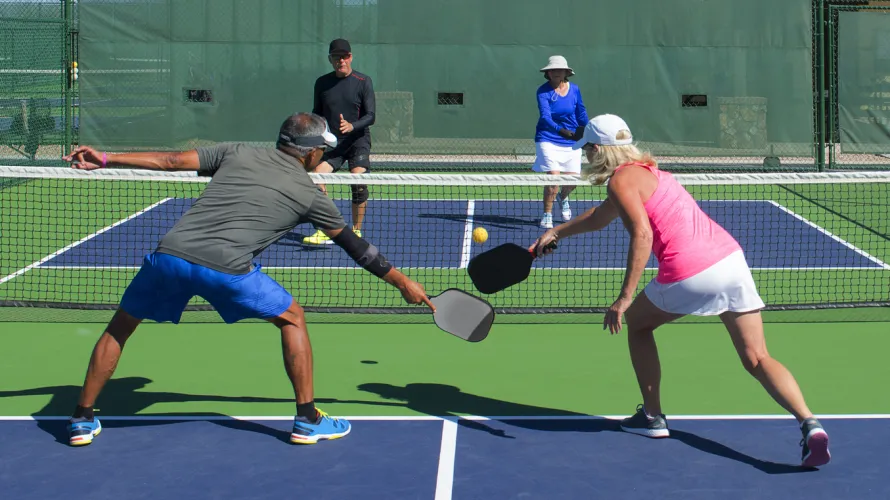 Published on April 6, 2021
Big on pickleball? Join the club! This sport takes the best features of tennis, badminton, and ping pong, combining them into one easy-to-play super sport. Despite its unusual origins, pickleball is one of the fastest-growing sports out there today, with over three million Americans partaking as of 2019—though we suspect there have been many more converts since then!
Not only is pickleball fun, breezy, and social, it's a low-impact activity that helps promote a healthy, active lifestyle. Maybe that's why countless retirees across the nation are huge fans of this combination racquet sport. In fact, pickleball is so well-beloved that many active living communities have adapted their facilities to meet the growing needs of pickleball aficionados. 
Sun City Hilton Head
This sunny spot in Bluffton, South Carolina, is a haven for active retirees. This gated and age-restricted community is 8,000 homes strong and still growing. Here, you can choose living accommodations that range between 1,000 and 4,000 square feet, from townhouses to single-family detached homes, available at a wide array of price points. 
There's never a dull moment in Sun City, thanks to their swanky, well-appointed amenities. The community orbits around Sun City's 45-acre town center, and traveling in any direction can bring you somewhere wonderful. Enjoy a game on one of the community's three 18-hole golf courses, dip a line in the 20-acre lake teeming with fish, or take advantage of Sun City's dozens of athletic courts. 
And what about pickleball? Sun City features a dozen pickleball courts open to all residents, but more competitive players can join their pickleball club.
Latitude Margaritaville Hilton Head
For pickleball-loving retirees looking to while away their time in Margaritaville, there's nowhere better than this Jimmy Buffett-inspired community located in Hardeeville, South Carolina. This luxurious resort-style community sits near the sandy shores of Hilton Head. Not only is Latitude Margaritaville incredibly scenic and rich with natural beauty, it's also rife with top-tier amenities and affordable new homes in a range of sizes and layouts.
There's no shortage of things to do at Margaritaville: a fitness center, a theater, a clubhouse restaurant, several swimming pools, and a private beach area.
Margaritaville is appointed with a handful of pickleball courts, and the community's club regularly organizes competitive matches among its members. 
Brunswick Forest
A passion for pickleball is a must-have at Brunswick Forest. This lush North Carolina community is home to countless retirees who are loving the laid-back lifestyle. Located just 10 minutes south of Wilmington, Brunswick Forest offers access to the stunning North Carolina beaches, along with luxury amenities.
Brunswick's gorgeous - and sizable - Fitness and Wellness Center boasts indoor and outdoor pools, a sports plex, five tennis courts, and state-of-the-art fitness facilities. Personal trainers, massage therapists, and spa facilities are also at your disposal! Or how about a game at Brunswick's award-winning golf course?
And for the pickleball fans, Brunswick Forest's Pickleball Paddles Club offers training with certified instructors, plenty of programming, and social events. If you're a competitive player, why not try your hand at a championship game? 
Tellico Village
Nestled in the Great Smoky Mountain's foothills, the lovely Tellico Village backs onto the expansive Tellico Lake. Tellico's homes are located along the lakeshore and the community's three lush championship golf courses. Here, you can spend your days at the Lakefront Yacht Club, one of the three golf clubhouses with luxury dining, working up a sweat at the massive Wellness Center, or splashing in the indoor and outdoor swimming pools. Or perhaps you'd prefer to take advantage of the community's marinas, parks, and library. 
As for sport courts, Tellico has ten tennis courts and eight pickleball courts - and here, there's no better pastime than pickleball. Tellico Village is home to a prestigious and competitive Pickleball Club. With eight newly-built courts and 380 members, Tellico touts itself as the 10th largest pickleball community in the world.
The most challenging thing about your retirement should be picking your pickleball paradise. With so many beautiful spots to choose from, you're bound to find your happy place. 
Other Real Estate News