Coastal Southern North Carolina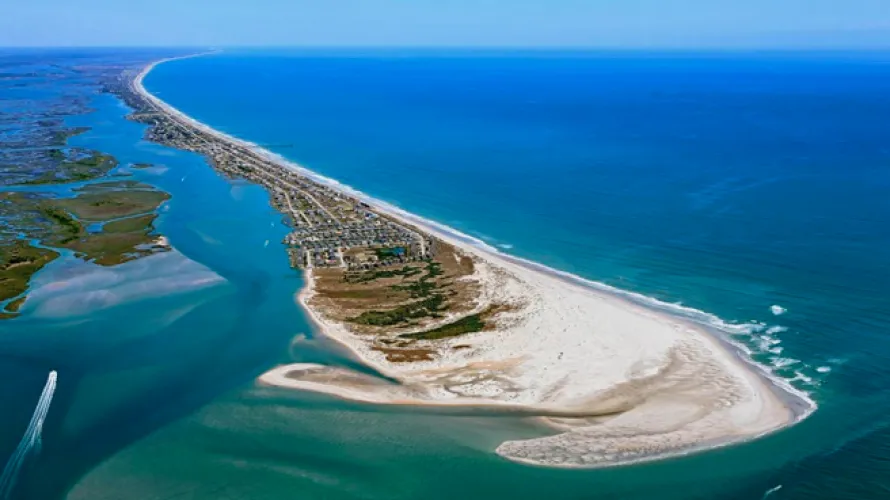 Surf City, North Carolina stretches along Topsail Island, a barrier island off the coast of North Carolina. The small town extends to areas on the mainland along Roland Avenue with stunning views of Waters Bay. Known for having one of the best beaches in North Carolina, Topsail Island is also a sanctuary for endangered species such as the loggerhead sea turtle. Visitors come from all around to witness thousands of hatchlings make their way into the crystal waters of the Atlantic.
The golden, sandy beach stretches for 26 miles along the island creating a tranquil and private beach paradise for its residents. The warm waters of Topsail Island attract visitors throughout the summer months. Tourism also increases within Surf City during the warm days; turning the quiet beach town into a lively vacation getaway at one of the pretty coastal retirement communities.
Beach town boutiques and seaside restaurants line the streets of downtown, while antique stores are nestled within the city center like hidden gems. At sunset on Surf City Pier, aromas of succulent Southern dishes waft through the air. Charter boats cruise along the coast as the temperature cools over the deep blue waters. These are only a few of the reasons Topsail Island has become one of the best North Carolina coastal communities.
Baby Boomers are attracted to Topsail Island's easily accessible beaches, prestigious golf communities, and low cost of living. Residents have multiple options for boat launching to set sail into the Atlantic. Experience some of the best fishing in North Carolina along the waters of Topsail Beach.
The town of Surf City is an active member of Wildlife Preservation. The Sea Turtle Rescue and Rehabilitation Center saves hundreds of endangered species every year, and plays a large part in the turtle migration. Hike through the Maritime Forest and catch a glimpse of the local foxes or painted buntings. The salt spray creates a harsh environment for plant life and an adventure for any nature enthusiast. 
Sandy dunes stretch for miles along the shoreline under the glimmering sunlight. The pristine beaches of Topsail Island are accessible along north shore drive in over 20 locations. The best way to enjoy the scenery of Topsail Beach is to spend in afternoon on the uncrowded beaches with your four-legged friend. 
If you're searching for coastal retirement communities, here are reasons to consider Topsail Island real estate:
ARTS AND CULTURE
Visitors are drawn to Surf City's warm community and friendly Southern hospitality. The relaxed beach community hosts a plethora of seasonal festivals such as the Annual Spring Festival, Autumn with Topsail, and Summer Plunder Days. Other community events include Concerts in the Park and Movies in the Park at Soundside Park. 
Throughout the year local art galleries feature works from notable artists such as Ivan Hayes. Stroll down Topsail Drive and view the galleries, or take a trip to Burgaw's historic downtown for the Annual North Carolina Blueberry Festival. Burgaw is home to one of the oldest train depots in North Carolina, and contains numerous historic landmarks. 
Coastal North Carolina is a military town and celebrates its national pride through attractions such as The Historical Society of Topsail Island and USS NORTH CAROLINA Battleship Memorial. Climb aboard the USS NORTH CAROLINA and relive history Behind the Hatch. The Historical Society of Topsail Island invites visitors to learn about Operation Bumblebee and more in its Missiles & More Museum.
CLIMATE
Topsail Island, North Carolina has moderate temperature fluctuations, and retains warmth in the winter months. The average temperature December through February is in the low 50's. May through September, the average temperature is in the 80's. With over 70% sunshine throughout the year, every day is the perfect beach day in Surf City. Great weather makes Topsail one of the superb North Carolina coastal communities to own a beach home.
LIFELONG LEARNING CENTERS
Surf City students attend the nearby Topsail Schools within the Pender County District. Topsail High School has a variety of extracurricular activities for its student and a wide array of educational courses; including an Electrical Vehicle Class that has placed first in the Nation for the EV Challenge competition. The school also offers dual enrollment with Cape Fear Community College for college credit.
Topsail Island's closest University is the University of North Carolina Wilmington (UNCW). Established in 1946, the UNCW has a rich history that accompanies its beautiful campus and neo-Gorgian style architecture. Historic campus buildings include the Wise Alumni House and the Kenan House, constructed in 1911. The Osher Lifelong Learning Institute at UNCW is a program designed to connect the university community with the adult community. Primarily for adults aged 50 and older, the Osher Lifelong Learning Institute offers opportunities to expand your knowledge in history, music, science, and more.
MEDICAL AND HEALTH CARE
Topsail Island is nearby the New Hanover Regional Medical, a well-renowned hospital with a five-star rating. Recently U.S. News & World Report ranked New Hanover Regional Medical Center 'Among the Best Hospitals in North Carolina.' The hospital excels in the areas of cardiology and heart surgery, gastroenterology, orthopedics and pulmonology. Within Topsail Island is the Island Family Medicine & Urgent Care, a full service family health care center with an on-sight lab. 
RECREATIONAL SPORTS
It is no surprise that this charming beach town is known for its quality fishing. Cast a line off of the Surf City Pier, or set sail on the Atlantic for a day of deep sea fishing. The local surf shops offer charter boats for everything from clamming, crabbing, and tubing, to fishing for Tuna and Dolphin in the Gulf Stream. Residents are also drawn to Topsail Island's award-winning golf courses. Choose from a plethora of waterfront golf communities, and spend a morning on the green. Surf City is a bike-friendly community; offering lower-speed limits, bike lane highways, and a pathway stretching from North Topsail Beach Town Hall to the North Topsail Beach Park. It's the perfect place to own Topsail Island real estate. 
SHOPPING AND DINING
Only steps away from the beach are a collection of antique, boutique, and souvenir stores in the central business district. The Topsail Island Trading Co. is famous for their homemade cream and butter fudge along with beautiful hand crafted jewelry. Head over to Bert's Surf Shop for some top notch swim apparel, or treat yourself to a seaside souvenir at the Bumblebee Market. Larger retail stores such as Food Lion and Family Dollar are located on the mainland along Roland Avenue. 
The best part about beach living is the catch of the day! Indulge in a variety of homestyle restaurants with the freshest seafood around. Daddy Mac's Beach Grille offers deck dining and a mouthwatering shrimp platter. The Bistro at Just Baked serves Southern and Coastal classics with homemade chips and a selection of craft beers. From luxurious seaside dining to homestyle in-town restaurants, there is something to satisfy everyone's tastebuds in Surf City.
HOME AFFORDABLE AND TAXES
Topsail Island real estate in area is often accompanied by a stunning oceanfront view. The average home price for Surf City is in the $300's. The town's property taxes recently increased to a rate of 31 cents per $100 valuation. This increase is helping to fund a beach replenishment project along with numerous rebuilding projects post hurricane Sandy. Property tax is expected to decrease after completion of the Surf City projects. Pender County's property tax rate is 51 cents per $100 valuation. 
If you're searching North Carolina coastal communities, there are a number of developments we find of interest. Some are waterfront communities with deep water ocean access marinas or Wilmington NC golf communities.